Last summer, Jackie wrote about the Scholastic set of books titled How to Survive Anything. If you check out the indexes to the two books, you see major sexism going on, don't you?
After she shared this, the post went wild, and Scholastic issued a statement that they'd produce no more copies of those books. Because, you know, sexism makes people angry.
So imagine how exciting it was to see Karen post this image on Twitter this morning: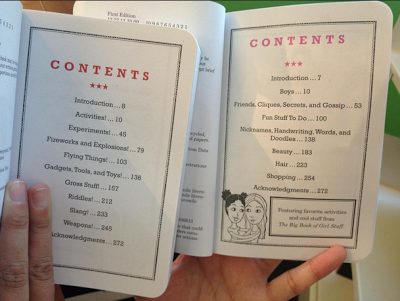 The book on the left is called The Pocket Guide to Boy Stuff and the book on the right is called The Pocket Guide to Girl Stuff. The image comes from the blog "Eyes See The World Spinning Around," which posted about this to no comments (though there was a Reddit discussion over the post).
This is unacceptable, yes?
While these are meant to be gift books — and the reviews suggest they're over the top ridiculous on many levels — accepting this sort of every day sexism and continued belief in certain gender roles allows it to continue in bigger ways. What else is there really to say?