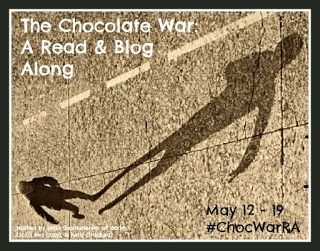 The Chocolate War is a classic of YA fiction. It's a classic of realistic fiction and has been cited numerous times by authors today as the book which inspired them to want to write and to write contemporary/realistic fiction that's at times brutal and gritty and at all times, honest.
It's been a few years since I've read it. In fact, it was the class in which I read the book where I met Kim (and we know where that story goes, as it's being written here). I think my reading of it now, many years later, will be way different and I'm eager to have that experience.
After talking with Liz and Leila, we decided we all were ready to give it a reread — or in Liz's case, a first read. We thought we'd blog a little about it, too, including our first impressions, our reviews of it, and I know all of us have another idea or two up our sleeves, including watching the film and seeing how it does or doesn't do the book justice. I have some ideas in regards to contemporary YA I want to talk about, too, and how Cormier's classic has inspired so many other books.
But more than us reading and blogging about it, we wanted to open this up to anyone interested in joining in a read and blog along to Cormier's book. We're doing it May 12 through 19, and you're welcome to post as much or as little as you'd like to. We will have a kick off post on May 12 where anyone who wants to join in can drop a link to their posts throughout the week, and at the end, we'll highlight some of the posts we read. Yes, you can and should steal my graphic above if you want to join in.
If you are interested in joining but don't want to blog yourself or don't have a blog and would rather write a guest post, I am happy to host any and everything relating to the book or movie. Drop a comment here or email me and I'll set things up. We want this to be fun, so offer up anything you want to. Also note the hash tag for anyone playing along via Twitter.
We will, of course, post a reminder closer to the start date, but we're so excited about this, we wanted to get the word out early. And, bonus, you know you can now get the book as an ebook if you want to, right?
Let us know if you're going to join in!