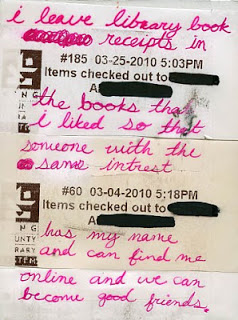 via postsecret
It's time for the biweekly roundup of all things great and interesting on the internet! But first, if you missed earlier announcements, it's true that we finally joined the ranks of Facebook — if you want to, go ahead and like us there. We're going to try to share not only our posts over there but also things we read that we think are interesting and worth sharing (that don't necessarily make it to the roundups here).
Now that that blatant self promotion is done, let's dive in:
Starting with this piece because this is a topic that's been on my mind a lot lately, if you haven't noticed via previous link roundups: does it matter what books your library has? My short response to this is: yes, this, yes.
"Browsing is fundamentally an act of independence, of chasing your own idiosyncratic whims rather than clicking on Facebook links or the books recommended by some greedy algorithm." This is The New Yorker on the art of browsing.