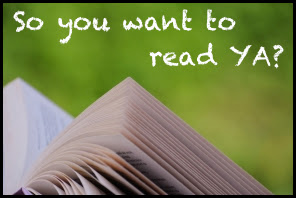 Last year, we ran a very fun, informative, and popular series here at STACKED called "So You Want to Read YA?" It arose out of a question that we receive often as librarians and YA readers: "Where do I start?" The series asked that very question to a variety of people in the kidlit world, ranging from teachers to librarians, to authors and bloggers, to editors and marketing folks.
Following the presentation about running a blog series at KidLitCon, I was asked if I would consider doing the series again but with a new set of guest bloggers. I thought about it for a long time, and I thought why not?
So it's coming back!
Starting next Monday, March 4 and running through the last Monday in July, we'll be featuring a guest post on the topic of where to start in YA fiction. The posts come from a range of people like before, including authors, editors, soon-to-be-published authors, bloggers, librarians, and teachers. I'm so excited about each and every one of them. Nearly all of the guest writers for this round of posts have never been featured here before on STACKED, so we're excited to spotlight some new-to-us voices (and, in some cases, not so new-to-us voices who we'd never approached before).
If you haven't read or caught up with last year's posts, feel free to dive in here. Prepare to expand your to-read piles significantly.
A huge thank you goes out to each and every one of this round's contributors, and a special thanks goes out to Nova Ren Suma, who not only encouraged revisiting the series at KidLitCon, but she offered some wonderful suggestions for contributors.