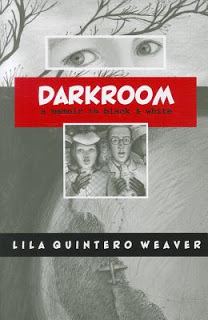 I was thrilled to be a round 2 judge in this year's Cybils awards, helping select the winners of both the middle grade and young adult graphic novels. I had actually only read one of the finalists before the shortlists were announced, so I had a terrific crop of new reading to dig into. Among them were two memoirs of two different places and eras, and I enjoyed them both quite a lot, for different reasons:
Little White Duck
by Na Liu and Andres Vera Martinez (middle grade) and
Darkroom
by Lila Quintero Weaver (young adult). I intended to review them both here, but I discovered I had a lot to say about Darkroom, so I'll discuss Little White Duck in a future post.
When Lila was five, her family moved from Buenos Aires, Argentina to Marion, Alabama. It was 1961, and the American South was heavy with Jim Crow, segregation, and the Civil Rights Movement. In that time, the dominant white group had not yet decided to marginalize people of Latin descent, who were not yet emigrating to the United States in the waves they do now. So the Quinteros were not reviled like their black neighbors, but nor were they quite accepted, either. This made Lila a bit of an in-betweener, neither black nor white, and therefore gave her a unique perspective on the events that unfolded in the 60s.
I normally avoid stories about race relations in the 60s. I've learned about Jim Crow and the Civil Rights movement since the moment I began attending school, but more than that, I just find it all incredibly depressing, mostly because I still see so many of the same awful attitudes reflected in my peers today (toward black people and other marginalized groups, too). (You should probably know that I live in the American South and have my entire life.)
Despite my predisposition to not enjoy these kinds of stories, though, I quite liked it. Lila describes how she, as a child and a teenager, reacted to what was going on around her: what she witnessed, what she heard about, what was hidden from her. Because of her unique vantage point, she learned at an early age what it meant to hold a prejudice, and she learned to fight against it. She also weaves in her own experience as a Latina and the prejudices people had about her family. She was constantly embarrassed by her parents' use of Spanish in public, for instance, and she yearned to look more like the white ideal espoused by so many of her classmates. It's not a story entirely about race and culture, either: Lila also tells us about her everyday life, her parents' vocations and values, her friends, and so on. While this could have been a dry treatise on the evils of Jim Crow, instead it's a deeply personal story – of both Lila and our country.
The black and white illustrations are competent, though not breathtaking. She uses the black and white medium to great effect, particularly shadows. She also varies the composition of the pages, creating some with strict panels, some with full-page illustrations, and some that are a mixture of the two. One particularly memorable spread features a drawing of a history textbook Lila's class used, with the actual text reproduced. (This particular textbook reminded me strongly of some of the textbooks purportedly being currently used in some Louisiana schools, where slaves were happy and well-treated and the KKK was an upstanding community organization.)
While it's very well-done, I think the appeal is a bit limited. The perspective is clearly that of an adult reflecting on childhood. It's a lovely, poetic reflection, though, with a fantastic parallel beginning and end. For readers interested in graphic memoirs, this is a good selection, and it's particularly impressive considering it was a school assignment for Weaver, and her first published effort.
Finished copy checked out from my local library.