While you're reading these interesting links from the last couple of weeks, I'm in the midst of ALA. I'm writing this out beforehand, meaning it's likely I've missed some good reading from the last few days. If you've seen something worthwhile, please feel free to drop a comment and let me know so I can catch up!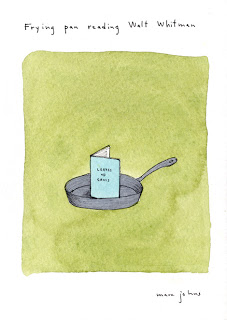 I'm in love with Marc Johns's "Objects Reading Books" drawings.
There has been a lot of talk about brick and mortar bookstores in the last couple of weeks. First, it was the discussion about how Barnes and Noble has been quietly closing its doors over the last couple of years (I don't have the exact article, but here's a less well-written one over at the Daily Beast). Then there was an interesting post by Sarah over at YA Librarian Tales about how she doesn't care if book stores close because she doesn't use them. Some of what she says I take issue with because, well, I'm rural, too, and I don't have a bookstore within 50 miles and yet, what I love about the book store experience isn't the immediacy. It's the serendipity of browsing, of discovery, and of the fact I don't need immediate gratification therein. But I hear and get the argument about the ease of ereading and ability to download ebooks when you want them. Here's a nice guide to supporting your local indies through your ereading habits. You can have it both ways.