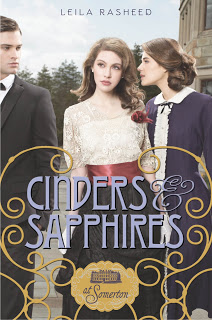 It's 1910, and the aristocratic Averleys have just returned to England from many years in India, fleeing scandal. They've come home to magnificent Somerton, their ancestral estate, bringing with them a new set of family members, thanks to Lord Averley's sudden marriage. The arrival of not one, but TWO families has thrown the house's servants into a tizzy, too, and the whole place is rife with gossip about what happened in India, what the grown-up children will look like, and whether the new additions to the Averley family will be cruel or kind.
Cinders and Sapphires
touches on at least a dozen characters, but its main focal points are teenagers Lady Ada Averley, the aristocratic daughter about to make her society debut, and Rose Cliffe, her freshly-promoted lady's maid with muddy parentage. Ada wants to go to Oxford and get an education, but her family expects her to marry well (meaning rich) instead. Rose is thrilled with her new position, but she dreams of more, even while worried that such dreams may make it look like she's putting on airs.
The perspectives shift from character to character, the omniscient narrator giving us a little voyeuristic peek into nearly everyone on the page. The comparison to Downton Abbey is apt. It's wonderfully soapy with a large cast of characters who all have a huge number of problems, making for some terrific melodrama. Great literature this is not, but it is certainly great fun, with terrific plotting and characters who have some interesting personality quirks.
Many of the plot twists are easy to see coming, but some aren't, and even those telegraphed from a mile away are seriously fun to read. A fun game to play as you read is to think of everything that was majorly scandalous in 1910 and only minorly scandalous now (if at all), and see how many of those things you end up reading about in the pages of Cinders and Sapphires.
This is prime entertainment. There's romance, intrigue, scandal, betrayal, secrets, shattered dreams – all the good stuff. There are also some fine historical details that ground the novel a bit and give the reader some idea of the relationship between Britain and India at this point in time. This is very accessible historical fiction, the kind that delivers a relatable story without being too anachronistic about it. I turned the last page and wished I had the sequel.
Review copy provided by the publisher. Cinders and Sapphires is available now.