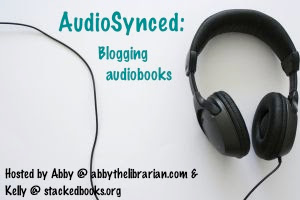 Welcome to another edition of AudioSynced, co-hosted by myself and Abby (the Librarian). Each month we offer up links to reviews, news, and other interesting audiobook tidbits from around the web. You're welcome to contribute anything you've written about audiobooks in the month of December by dropping a link in the comments. If you missed out last month, AudioSynced will be hosted over at Abby's blog in February, so send her your goods.
A couple of thoughts before the round up: would people be interested in an updated list of Twitter accounts or strong audiobook reviewing blogs? It's probably been almost two years since we did that, and we could put something together again. If so, what are some of your favorite — strongest, most interesting, most helpful — blogs and Twitter accounts for audiobook information or reviews? Or if you know other great resources, including Pinterest boards (I've included one below) or Facebook pages, those would be worth knowing about, too.
Second, I haven't reviewed an audiobook in a long time, but I did get the chance to listen to one last month, and it's made me eager to try bringing that back into my life and routine. If anyone has good tips or suggestions for doing that, I'd love to hear. I commute to work — about 20 minutes each way — which is one way to sneak it in, but I'd love to hear your tips and tricks, too.
Don't be shy. AudioSynced is meant for you to promote what you've written, so share away in the comments.
Audiobook Reviews



Melissa over at Book Nut has a review of Erik Larson's In the Garden of the Beasts. She says, "This book was fascinating. It did spawn a lot of thought and discussion: about the nature of evil, about relationships, about what could have been done, about politics."
Sarah at the YA Love Blog reviews Courtney Summers's Some Girls Are and says, "Katie Schorr is a good choice for Regina … I think hearing it, as opposed to seeing it, took away from the effect the clipped, sparse lines were supposed to have." Sarah also has a review of David Levithan's Every Day.
Trish at Hey Lady, Whatcha Readin'? shares a review of Neil Gaiman's Stardust and says, "Gaiman does an amazing job, making me eat my opinion about authors reading their own books."
Audiobook News & Features
An interesting piece out of New Hampshire Public Radio — in this interview with AudioFile founder and editor Robin Whitten, she talks about the best audiobooks read by celebrities. You can even listen to some clips to see what makes the production worthwhile.
Have something interesting from December you want us to know about? Leave a link. Or if you want to share anything interesting from elsewhere on the web, you know what to do. And no worries — if you didn't review anything this month but want to participate, Abby will be hosting AudioSynced next month.