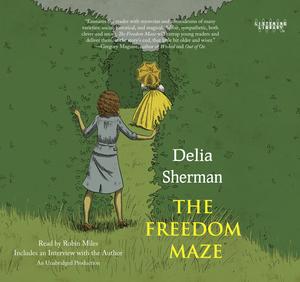 I was quite surprised by how much I enjoyed The Freedom Maze. While I like historical fiction, I'm very picky about the time periods I choose, and neither of the time periods featured in The Freedom Maze (1860s and 1960s American South) are ones I normally seek out. But audiobook selection is limited and this one won the Nebula (Andre Norton Award for Young Adult Science Fiction and Fantasy Book), so I gave it a shot.
It's very good. It's a book in conversation with Edward Eager's
The Time Garden
, which I have never read, so I won't be able to comment on that aspect. But if you have read the book and my plot synopsis sounds very familiar, that's why.
It's 1960 and thirteen-year-old Sophie has been forced to spend the summer with her aunt and grandmother at the old family estate in Louisiana. It used to be a large plantation, home to a wealthy family and many slaves in the 1800s. It's much reduced in the 20th century, but the old ideas still linger in the mind of Sophie's grandmother and mother.
Sophie resents being there so much that she wishes she were somewhere else – a place where she has a family and friends who care about her, something she feels is missing in her current situation. This wish is overheard by a magical trickster being, who sends Sophie 100 years back on time to 1860, but leaves her right where she is physically.
No one recognizes Sophie when she shows up at the plantation 100 years in the past, and due to her tan and her frizzy hair, Sophie is mistaken for a slave. She's assumed to be the pale daughter of the family's white brother from New Orleans and his female slave, but a slave nonetheless. From there, the story takes Sophie to the big house as a house slave, then to the fields and the sugar house of the sugar plantation. Along the way, Sophie comes to care for the slaves she works with and comes to a greater understanding of the history behind the racial tensions she's experienced in the 1960s.
More than that, though, her wish is fulfilled: she has friends and a family who risk their lives for her. And Sophie, in her turn, risks her life for theirs. She also does a good bit of growing up. This is historical fiction but also very much a coming of age story. In that way, it feels a bit retro. I think it's definitely one my mother would have picked out for us to listen to on a long car trip.
The idea of combining two historical time periods is an interesting one. I've only ever seen it done elsewhere in Emily Whitman's
Wildwing
, where it was fun but not as entertaining or consuming of a story. There's actually quite a bit of time spent in the 1960s, more so than I initially thought, but I was fascinated by it. Sophie's mother is a racist, a mindset inherited from her own mother, who is a near-clone of "Old Missy," the matriarch of the plantation family in the 19th century. But other views her mother holds are more progressive: she's divorced her husband and buckles at the idea that to be a proper Southern belle, she must be a homemaker and eschew employment. Due to the divorce, she needed to find a job, and she did so – and then discovered she really enjoyed the work. I appreciated the interplay of the two time periods. The 1960s are there for a reason, not just as a stand-in for the present.
A brief author interview at the end of the book describes how much research Sherman put in to her story (it took her many years to write it), and it shows. Setting and historical details are excellently drawn. I also feel that Sherman does a good job of making this Sophie's story, as the protagonist, but also avoiding turning Sophie into a white savior of black people, which could have been very easy to do in this sort of setup.
This is an easy choice for historical fiction fans, especially since it covers two historical time periods. And for anyone who's ever wondered what it would be like to live as a slave in the American South, this is a natural choice too – Sherman has done her homework. While it's definitely a fantasy, what with the magical being and the time travel, that's not the focus. Those aspects are simply the tools Sherman uses.
And of course, I couldn't recommend this without endorsing the narration, which is excellent. The narrator has a perfectly authentic Southern drawl and gives the white and the black characters accents without exaggeration. It's a good thing this one earned the Nebula, because otherwise I doubt I would ever have bothered to read it; goodness knows that cover is not helping it any. But I'm glad it brought the book out of relative anonymity and is giving it a wider audience, something it certainly deserves.
Audiobook provided by the publisher.