I love the Morris Award. I love everything it stands for. This is an award that, without doubt, changes the lives of the authors who are finalists and who are winners. The award's entire purpose is to highlight not just outstanding debut novels that showcase strong writing and appeal to teen readers, but also writers who have work that is exciting and who have the capacity of deliver even more outstanding work down the road. These are books and authors that show potential. The rationale, listed under the policies of the Morris Committee, states: "We believe it is valuable to use the strength of our organization's reputation and expertise to widely publicize and forthrightly honor these "first-time" books and their authors."
Before proceeding, let me state this discussion is not at all about the hard work done by the committee or by the hard work done by any authors under discussion. Likewise, it is not a means of discounting the books discussed nor undermining their strengths. In other words, this has nothing to do with the books or those involved in decision making for this year's short list. Rather, this is a post I hope generates some discussion. You should also make sure you check out Liz's take on this topic because she and I have been discussing it at length.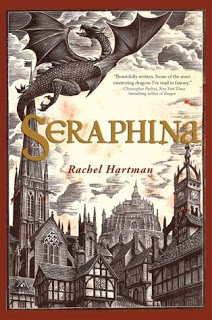 The Morris Awards have a short and, I think, fairly clear policy. The award and the finalists are to be books by first-time authors who have not published in the past. This means that authors who have written for the adult market or the children's market and are making their first foray into YA are not eligible. It means authors who published under a pseudonym in the past but are now using their first names are not eligible. It means authors who may have worked with a ghost writer who has published in the past are not eligible.
Rather than delineate all of the things that don't define first-time author, I'll go ahead and copy the eligibility criteria from the Morris site:
The award and honor book winner(s) must be authors of original young adult works of fiction in any genre, nonfiction, poetry, a short story collection, or graphic work.
The award winner(s) must not have previously published a book for any audience. Books previously published in another country, however, may be considered if an American edition has been published during the period of eligibility.
Works of joint authorship are eligible, but only if all contributors meet all other criteria. For example, graphic works created by an author and an illustrator are eligible, but only if both contributors have never published before.
Books must have been published between January 1 and December 31 of the year preceding announcement of the award.
Edited works and anthologies are not eligible.
The short list may consist of up to five titles.
The award may be given posthumously provided the other criteria are met.
The winner and short-listed book authors are encouraged to attend an award ceremony following the announcement of the award at ALA's Midwinter Meeting.
If during a specific year, no title is deemed sufficiently meritorious, no award will be given that year.
The chair, with assistance from designated YALSA staff, is responsible for verifying the eligibility of all nominated titles.
To be eligible, a title must have been designated by its publisher as being either a young adult book or one published for the age range that YALSA defines as "young adult," i.e., 12 through 18. Books published for adults or for younger children are not eligible.
To be eligible, a title must be widely available in the US to libraries and teens.
Titles that are self-published, published only in eBook format, and/or published from a publisher outside of the US will not be considered eligible until the first year the book is available in print through a US publishing house.
Looking at this year's finalists, we see a little bit of everything. Laura Buzo's Love and Other Perishable Items was eligible because, despite being published outside of the US prior to 2012, it didn't make a US debut until this year. After the Snow is Crockett's first and only book, as is Barnaby's Wonder Show and Emily Danforth's The Miseducation of Cameron Post (though interesting to note — a draft of Cameron Post was published as Danforth's PhD dissertation).
However — and this is something I didn't realize back when I was making Morris predictions earlier this year — Seraphina is not Rachel Hartman's first published book.
It's not a secret anyone is keeping. Hartman talks about her self-published comic Amy Unbounded in her blog, and she even got a nice review of it in Publishers Weekly. She received a Xeric Foundation Grant to support the endeavor, and she got a nice write up on Strange Horizons, as well.
There is a fascinating discussion over on the Someday My Printz Will Come blog in the comments about what this self-published title means in terms of Hartman's book being eligible for this year's Morris. Now that the short list is out there (and early, I may add — the Morris policy states that the finalists are announced on the second Monday in December, but they were announced on Thursday, December 6, which is the first Thursday in December), we know that the self-published title didn't impact Seraphina's eligibility.
Rereading the policy, it's the last item on the list, #13, that seems to be where there is acknowledgement of the impact of self-published titles. Self-published books or those only available as eBooks are not eligible until the first year the book is available in print through a US house (note that rule #13 was implemented this year, per the President's Report, which begs the question of why no one noticed this or why it wasn't further discussed in March). Though it is not spelled out, but by the logic of the way rule #13 is written, it would be a Catch-22 for Amy Unbounded to be what disqualifies Seraphina from being eligible. Since Amy Unbounded wasn't itself eligible under the rules, then it wasn't a first book. Had it been published through a standard publisher, it would have been what kept Seraphina from becoming eligible.
Again, this post is not a discussion of Seraphina's merits or the committee's decision to make it a finalist. In fact, I thought this was a non-surprise title, since it garnered so many positive and starred reviews. Rather, this is meant to question what a first novel really and truly is, and whether or not a self-published title is or is not a novel.
I'm not convinced that self-publishing a book is not, in fact, publishing a title. An author does it for any number of reasons: they can't find a traditional outlet, they prefer not to go through a traditional outlet, and so on and so forth. It doesn't really matter why they chose not to go that route. What it comes down to is wanting to put a book out there and share their works. For some, there is a lot of time and money involved in self-publishing (via hiring an editor, copy editor, designers, and so forth) and for others, it's a one-person show.
By putting a self-published book out there, aren't the authors who choose to do that publishing a book? They are, in some capacity, not only growing a readership but they're hoping to bring in some sort of income from it (even if it's minuscule). How does their choice to self-publish diminish the fact that they published a book? Whatever method people chose to publish, they're still publishing and developing a product available for reader consumption. A book is a book, whatever format it takes to get to that point.
This leads me then to wonder why it is that self-published books are excluded as "previously published books for any audience." If that's the case, I'd accept it much better if the eligibility rules addressed this straight up, rather than dancing around it a little bit. Is there something sticky in stating bluntly that self-published books are not previously published books? That the "self" status in front of "published" disqualifies it or makes it less legitimate?
Part of why I'm thinking about this is that it makes me wonder, then, why new ventures from authors who published for other audiences are disqualified from the Morris. Why is it that someone who has only published for adults and then chooses to try out a YA title disqualified? Or someone who has had their first book published as middle grade then chooses to try out YA in their next book? Sometimes, the audience of a particular book isn't determined by the author but rather the publisher. Another thought: what about books that are published for a highly specific, non-fiction market? Liz herself is a co-author on Pop Goes the Library — a guide for librarians and the use of pop culture. If she were to write a novel, why would that prior non-fiction title (with a small, specialized audience) disqualify her as a new voice in YA fiction? It was published through a professional press, rather than a big publisher. It was not self-published, but it would still count as a first book by technicality.
Sure these examples make the playing field much broader and doesn't necessarily represent new voices on a grand scale. But how does a first-time traditionally-published book represent a new voice any differently if the book's author has self-published in the past? There's little argument it means a potentially bigger readership, potentially stronger editing, and potentially stronger marketing, but those are not at all guarantees. Look at the number of recently acquired self-published titles or fan fiction titles that went straight from where they were to press with little hand from anyone in the middle.
Many of us who love the Morris have been wondering about the implications of self-publishing, and this year's finalists definitely answer the question for us. But it does raise more questions about what a first novel truly is, and what self-publishing is or is not.
From my perspective, a published book is a published book, whether it's through traditional means or self-publishing means.