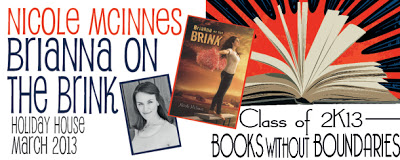 About the Author: Nicole McInnes is a university writing and literature instructor, a mom and a horsewoman. Born and raised in the San Francisco Bay Area, she now lives in northern Arizona. When not writing or teaching, she can be found exploring the national forest on horseback, taking pictures and playing with her kids and pets. Visit her at www.nicolemcinnes.com


About Brianna on the Brink: Sixteen-year-old Brianna Taylor finds herself lost, alone and with a major surprise in store after a one-night-stand. Just when she's got nowhere left to turn, help arrives from the one person who is closest to her big mistake, but accepting that help will leave Brianna forced to choose between clinging to the ledge of fear and abandonment – or jumping into the unknown where a second chance at hope might just be waiting.


Pitch your book in 140 characters:
It's JUNO meets MEAN GIRLS meets WHERE THE HEART IS in the edgy, soulful BRIANNA ON THE BRINK by @Nicole_McInnes


Who will this book appeal to:
Love edgy, soulful contemporary YA? You.
Favorite moment or character in your book:
Aside from Brianna, my favorite character is Earl, who's modeled on my late grandpa – a true, old school gentleman with fantastic one-liners


What's your writing routine:
I generally wake up in the morning feeling like P. Diddy, drink strong coffee & then apply my butt to the writing chair for several hours.


What's your best piece of writing advice:
If writing is what you must do, don't ever stop. If traditional publication is what you're after, don't ever give up. Support your library.


What's been the most surprising part of the publishing journey:
How flippin' LONG everything takes. And how incredibly generous with their time & talent other writers & readers can be.


What did you do when you learned your book would be published:
Ran down the driveway in my pajamas – barefoot, with bedhead, doing wild jazz hands – to tell a family member who was just driving up.


What's the best piece of writing advice you've received:
Go out and live life, have jobs, make a family. Experience what you can. It's the best way to gather material.


What are your top three favorite books:
COLD MOUNTAIN by Charles Frazier, GILEAD by Marilynne Robinson, ALL THE PRETTY HORSES by Cormac McCarthy. Pure prose mastery, all three.


What's next for you:
More writing, reading & connecting with readers at libraries, schools, conferences, etc! http://www.nicolemcinnes.com/appearancescontact/
Find out more about Nicole McInnes's Brianna on the Brink on Goodreads.