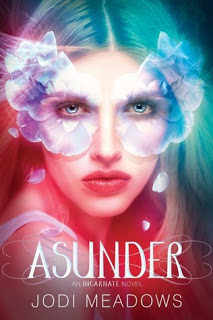 I felt pretty tepid toward
Incarnate
, despite its intriguing premise. Still, I was interested to see where Meadows would take the story, so I decided I would give
Asunder
a shot.
I'm so glad I did. Asunder is a marked improvement over Incarnate, with stronger world-building, characterization, and writing. It's just overall much better in nearly all ways.
Ana and the other residents of Heart are still reeling from the events of Templedark, which killed off dozens of souls permanently, never to be reborn. Despite the fact that Ana saved many souls during the tragedy, some still blame her, as the only newsoul in existence.
While Ana fights for her right to exist and live in Heart, she also begins to investigate the secrets the temple and Janan hold. What she discovers is astonishing – the reason for the reincarnations, for the newsouls, for the existence of the temple.
I loved what Meadows did with her world in this installment. What Ana discovers about reincarnation is completely shocking but also completely plausible. Meadows also builds upon the sylph, which I felt were pretty weak in Incarnate. Here, we learn more of what they look like, whether they're sentient or not, and even some hints as to their origin.
The romance here kills, and I mean that in a good way. In Incarnate, I felt the blossoming romance between Sam and Ana was a bit of a stretch, and Sam was drawn so sketchily I couldn't believe in his feelings. But we get a much better idea of Sam's character here, and he's appealing while also being flawed. Ana, too, is developed more fully, beyond just her desire to be accepted as a newsoul. The development of the two characters makes for a more believable and nuanced romance. They also grapple believably with the age gap and the fact that Sam has loved deeply before, which I really appreciated reading about: it's acknowledged and dealt with, not just brushed aside in the name of true love. There are a couple of scenes that are just this side of steamy, too, which doesn't hurt.
Lastly, the writing is much better, with tighter plotting and much less exposition. Meadows has some very nice turns of phrase, lifting her writing above merely serviceable. It's a lovely book to read, with no parts that lag and none that feel rushed.
I was pretty impressed with Asunder, and I'm definitely looking forward to the third book (as yet untitled), to be published in 2014.
Review copy provided by the publisher. Asunder will be published January 29, 2013.