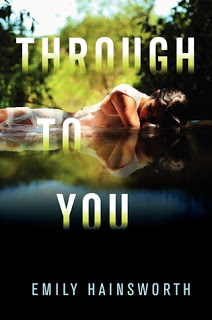 It's becoming rare to read something different in YA fiction. That's not to say books that tackle similar topics are bad — they're not — but when you pick up a book that is so different from what you've read before, it's noteworthy. Emily Hainsworth's debut Through to You is fresh, inventive, and engaging.
Camden Pike lost his girlfriend Viv in an accident, and he's grieving the loss hard. It's not just grief he's grappling with though; Cam also blames himself for the accident. A few moments of carelessness on his part caused her to die. Viv was everything to Cam. She helped him recover from an injury that sidelined his football career and she was there as his family fell apart and his father become more and more distant from him. She was his guiding strength through so much.
Cam would do anything for just a few more minutes with Viv. He'd do more to have her back completely.
One night, upon visiting the memorial dedicated to her at school — the place where the accident happened — Cam's visited by a spirit he doesn't know. She introduces herself as Nina, and she tells him she comes from a parallel world accessible through the green light glowing nearby. In this world, Viv is still very much alive. But as much as Nina warns Cam that going with her to this parallel world isn't good for him, he doesn't listen. He goes. And what he discovers about Viv changes his perception of not only who she is in this alternative world, but it changes his perception of who she was in his world. Was Viv the girl he thought she was? And how does Nina fit into all of this?
Through to You is one dash contemporary, with a dash of science fiction, time/space travel, thriller, and fantasy/supernatural. What keeps it woven tightly, though, is the romance and pursuit thereof. Cam's desire and passion for his relationship with Viv transcend place and time, and Hainsworth successfully marries her genres because the story remains grounded in the human element of connection.
Cam's voice is knockout — he is direct and unfiltered, sarcastic and hard to crack open. Despite holding back his true feelings, as readers we know what's going on in his mind. He's miserable and pained because of losing Viv, and he shows us this through his actions. He withdraws socially, reacts with intensity, but he lets us inside little by little through his counseling sessions. We learn about him, too, through his reactions to his parents' divorce and the instability in his family life. While it can be a little jarring and difficult to initially connect to Cam, that distance between reader and character is essential in establishing who he is. He's not easy to like and he doesn't necessarily want to be liked, either. The more we become invested in his story and the more we realize that he's struggling not just with grief, but also with guilt and anxiety and depression and confusion about the future, the more we're hopeful that he can come to some sort of closure with Viv in the parallel world.
When Cam enters the parallel world, Nina warns him repeatedly that Viv isn't who he thinks she is. Of course, Cam disregards her warnings because all he wants is to be reunited. This is his chance. And, of course, Nina's warnings are right — Viv isn't who she was in Cam's world. She's much crueler, darker, and possessive than what she was in his life. Cam can't get close enough to her, but as he watches her in this parallel world, he comes to discover that he isn't quite himself, either. That the choices he makes here are influenced heavily by Viv. The longer he's here and the more he longs for more time with Viv, the more he begins to question what Nina's warning meant. The more he begins to realize that maybe her warnings were right. That maybe, just maybe, the Viv in this parallel world is the true and honest Viv of his real world.
Fair warning that this next paragraph is spoiler, so feel free to jump down to the following one if you don't want it.
What Hainsworth does in developing this alternative Viv, one who is so much more controlling and powerful in the relationship, is savvy. Cam's grief in the real world and his guilt over causing the car accident that ended her life has done nothing but cloud the truth about who she was to him. She was possessive and greedy of his time. She took more away from him than she gave to him — where he thought she was the person who helped him through an injury, the truth was she was the person who kept him from returning to the sport he loved. She'd exerted her control over him and forced him to stray from who he was and what he wanted. When confronted with the truth of who Viv is in the alternative world, Cam realizes that her death frees him. As cruel as it sounds, she was the element keeping him tied down and keeping him from achieving what he hoped to achieve. It kept him from establishing other relationships and from being closer with his friends. His love for her was less about love and much more about being comfortable and feeling as though he were being accepted. This, of course, ties back into the trouble with his parents and feeling like the cast off in the family as they go through divorce. It's in Cam's realizations about Viv and what she really was to him that readers really connect with him. Grief can make people blind — for Cam, it makes him blind not only to what Viv was to him, but it protects him from what may be the scariest thing for him: freedom. Her death is his new beginning and the prospect is scary, despite being what he needs and deserves.
As much as the hook and threads of the story are in this romantic element and in Cam's grieving, what stood out to me was how Cam navigated and began to understand relationships with the adults in his life. In particular, Cam's interactions with his father were brutal. There's a scene that stands out to me, where Cam's father calls him and the tension and strain in their relationship as father and son sear. It's much less about the divorce or about what it means when parents divorce. This scene and the subsequent scenes with his mother highlight to Cam that making choices about the course of his life rest within his own power. He's watching two adults who are making choices — and not always ones he agrees with — and he's observing how adults can be selfish. Cam realizes in this phone call with his father that he is the one with the power to choose what he wants their relationship to be like. These moments tie directly back to the relationship Cam has with Viv; he's watched a destructive relationship between his parents, and that's why he didn't quite put together the potential destruction going on in his own relationship. Moreover, though, this is where the concept of choice and of false choices ties together. The ball is entirely in Cam's court when it comes to making choices about everything. He just has to find the power within himself to make them and live with the consequences.
The parallel worlds aspect of Through to You emerges not only in concept, but in actuality. It is the ultimate what if?
I haven't talked much about Nina, the third major character in this story, and that's because her role is almost too obvious. We know she's here to help Cam see the truth and she's here to guide him through the grieving process. Moreover — and this is spoiler — it seems clear from the beginning that she's going to make an appearance in the real world. She wouldn't exist only in the parallel world unless she had a complement in Cam's reality, and readers will know full well what that role is early on. I saw it coming from miles away, but I still found it satisfying. For Cam, Nina is little more than a ghost worth ignoring because she stands in the way of his being with Viv again. But readers know to expect more from her and they know that what she is is much more real and fleshed than what Viv is, despite Viv being depicted as the truth and whole thing. In the moments where Cam attempts intimacy with Viv, there are constant interruptions that break them from one another, where in the moments when Cam and Nina are together (not intimately), things are awkward but they're solid and unbroken. As much as Cam wanted Viv to be right, he knows she cannot be. It's clear who is.

Emily Hainsworth's debut is tightly written, well-paced, and will appeal to a wide range of readers, especially those looking for something a little bit different. This felt like classic YA to me in some senses, but I'm struggling to put my finger on what made it feel that way. Perhaps because it crosses so many lines in terms of genre and perhaps because it doesn't follow a lot of the current trends.
In so much as this is a story about grief and loss, it's ultimately a story about what the past is and whether people can move on from it or whether it ties them down. Through to You is quite minimalist in style, meaning that readers aren't going to have a lot of world building nor a lot of explanation for the hows and whys of parallel travel. That's a strength of the book — what it means and how it works lies in the hands of the readers to construct.
Review copy received from the publisher. Through to You is available today.