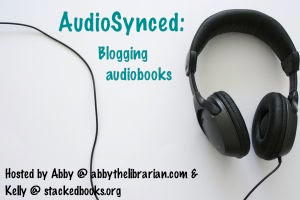 First, check out our new look! After using the old image for more than a year with incorrect blog addresses, we thought it about time to update that. To make sure we were completely updated, we swapped out our ear bud image for the big headphones because, well, it looked neat.
AudioSynced is hosted by yours truly and Abby, and we swap each month who hosts the roundup of all things audiobook in the blogging and book world (best as we can, anyway!). This month, I'm covering the audiobook reviews and news posted in October, and Abby will take the charge next month. If you posted something and want it included, drop a link to your post in the comments. Missed out this month? Abby will host next month, so send her your goods.
Apologies for a relatively thin edition of AudioSynced. It seems like a lot of the usual audio reviewers are taking a listening hiatus this month. So if I missed something or you want to add to it, don't be shy!
Reviews
Heidi over at Bunbury in the Stacks has a couple of reviews, including Kendare Blake's Anna Dressed in Blood and Mary Roach's Stiff: The Curious Lives of Human Cadavers.
Lisa at Shelf Employed reviews an early chapter book, Nancy Krulick's What's Black and White and Stinks All Over, which is the fourth book in the George Brown, Class Clown series.
Beth of A Foodie Bibliophile in Wanderlust reviews Gabrielle Zevin's Because it is My Blood, Yes Chef by Marcus Samuelsson, and Let's Pretend This Never Happened by Jenny Lawson.
Lee at Reading With My Ears lends her thoughts on Maryrose Wood's The Incorrigible Children of Ashton Place: The Hidden Gallery, Mark Haddon's The Red House, Christian Burch's The Manny Files, Ian Rankin's The Falls, and Georgette Heyer's The Convenient Marriage. She also snuck in a review of Joseph Delaney's The Last Apprentice: Rage of the Fallen.
Liar and Spy by Rebecca Stead is this month's audiobook contribution from Sarah at YA Librarian Tales.
Over at Good Books and Good Wine, Allison takes a stab at reviewing an audiobook. Her choice? Amanda Quick's Seduction. April offers up an audiobook reviews of Bram Stoker's classic Dracula and Walter Dean Myers's Sunrise Over Fallujah.
Flannery at The Readventurer reviews David Levithan's recently released Every Day.
News & Other Audio Bits


Janssen has a thought-provoking question: do you reread audiobooks? Would you? She enjoyed her audiobook "reread" experience quite a bit.
Sharon Grover and Liz Hannegan talk about how educators can use audiobooks to meet STEM initiatives, including common core standards.