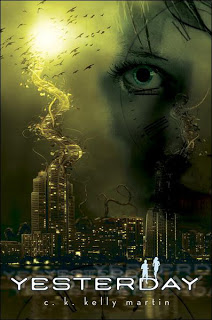 The year is 1985, and Freya, her mother, and her sister have just moved from New Zealand to a suburb outside Toronto. Freya's father died in a bit of a freak accident, and this is their opportunity to start over and be closer to her grandfather, who lives in the city. It's far from an easy transition for her — she's learning not only hot to fit in in a new high school and how to navigate a new country, but she's also struggling with the fact things feel very distanced from her. Her memories are foggy and she's experiencing pretty terrible headaches.
Things only get weirder when Freya is on a class trip to a museum in downtown Toronto and she sees a boy walk by who looks familiar to her. She has no reason to know him but she has a feeling she does anyway. So she follows him. The first time she does this, she doesn't act upon anything, but days later, she returns to the home she saw him enter, knocks on the door, and approaches him, asking whether or not they know one another some how. Garren thinks she's crazy.
That is, he thinks she's crazy until she shows him a photo that ties the two of them together in ways neither of them could have expected. It's in this moment of realizing they are connected that the story goes from being a contemporary novel to being a sci-fi adventure. See: Freya and Garren are actually from the future. They've survived 2063 and have seen what happened in the world then, and being in 1985 is how they survived their lives then. Now that they've figured out they have each other and that they've got this shared experience, other people who have survived from the future do not want them to know this, and they're out to wipe Freya's memory of all she remembers. It's not that her knowledge is a danger to today's world. It's a danger to the world of 2063.
Yesterday by CK Kelly Martin hooked me immediately, and it kept me hooked throughout the entire story. Freya is an average teen, and her struggle to figure out how to fit into her new high school and make new friends is every bit as realistic as any contemporary novel. She's a bit hard headed, but she's that way as a sort of defense strategy and as a way to get to the answers she needs. Freya knows in order to get to the bottom of what's going on with her memory and with her headaches, she has to go after it herself. This involves some level of deceit and dodging responsibility. She not only has to lie to those who she's closest to, she has to lie to those who she doesn't really know. As for Garren, he's a much more skeptical character and for good reason. He's being dragged into Freya's world reluctantly. Everything he learns about her and learns about his connection to her makes him a little more frustrated because the world he'd finally come to learn and accept continues crumbling. See, Garren is also fairly new to Toronto, and he, too, just lost his father in an accident. And now, thanks to Freya, he's caught up in a scandal much bigger than himself. Much bigger than 1985, too.
This is a plot-driven, rather than a character-driven story, but never once are Freya nor Garren flat characters. As things in their world shift, they adapt as needed. Garren's initial reluctance to follow Freya and his reluctance to be her partner in getting to the bottom of their world changes, but it's not without a lot of work on both their parts. They have to form a real team here, but it's not easy. The challenges they face on the human level gives them the opportunity to bond in a meaningful way and in a way that's beyond just their circumstances.
Since I don't want to spoil how Freya and Garren come to discover they're from the future because that's part of the payoff in the book. But what is important to know is that the future is terrifying — it's a dystopian society. The government has taken over, and it controls everything. Because of a lack of natural resources and the threat of hostile invasion, the United States and Canada have become one country, and the capital is located in Montana (strategically, that makes sense). There is constant surveillance, and children are designed, not produced. More importantly, and perhaps most terrifying, is that the world of 2063 is lived through virtual reality. Everyone is equipped with a mesh that feels and experiences anything in the world without requiring any human interaction. It's a way to protect individuals and a way to keep the government in control. One of the experiences the virtual reality machine excels at is the sexual one — individuals can have the physical sensation of pleasure any time they want to, by themselves, via the machine. This allows them to avoid the hassles of having to find a mate, avoid the emotional aspect of physical intimacy, and more importantly, it allows them to avoid the messy consequences of sex. It keeps the government in control, since there is no need for things like, oh, sexual education. In addition to squelching all things human from the individual, the world of 2063 is terrifying because of how much the world has disintegrated; the environment is trashed. There's also the fact that the bulk of society is unemployed, the social classes are more divided and fractured than ever before, and the government exploits these things to further its own causes.
In seeing this future, and knowing they're from it, Freya and Garren have their biggest awakenings. They realize they can't solve the problems of the future in the future, but they must instead live their lives now and appreciate and nurture they things they do have. More than that though, both come to realize that nothing in the world is guaranteed, and it's essential to live in and appreciate the moment while they can. And it's right here during this realization that the 1985 setting is crucial. I'm not a fan of books set in the 1980s because it feels like a workaround to modern technology but that's the entire purpose of Yesterday: this is a world where the scary, dystopian-like technology has yet to set in. It's a world that's familiar and foreign to the reader — it's both close enough to today's world that everything feels familiar, yet it's far enough away to cause the reader to pause and reflect upon the fact that the technology we have today (including the very blog you're reading right now) simply didn't exist. Martin excels at making 1985 Freya relatable to today's teens without swerving the narrative into one of nostalgia, rather than relevancy. Sure there are moments of indulgence — particularly through the wealth pop culture references — but it's forgivable because were Freya a 2012 teen, she'd be immersed in today's brands and bands.
There is a romance here between Freya and Garren, but it's never once guaranteed. I think this subplot might be my favorite in the story because it is so tentative. I found myself so pulling for these two characters to have the ending they deserved. Martin has a skill in writing romantic tension in a way that's authentic and that begs the reader to care. At one point, the two of them are both so scared and worried about their future that they seek solace in one another. They're together, both of them naked and vulnerable, and they're seconds away from their first sexual experience. Except, when the moment should happen, it doesn't. It's awkward for both of them, and they're shy and nervous about approaching one another afterward. But when they do, they realize the reason they felt that way and acted the way they did was because of their experiences in the future — they'd been robbed of those raw, human emotions and confronting them together was overwhelming. They didn't know how to act because the government wasn't giving them the instructions to do so. More than that, though, they realize they aren't sure what happens if they do engage in intimacy. They actually have to educate themselves about the consequences — something they didn't have to do in the mesh of the future. What's scariest to them and to the readers is that the world where they aren't allowed to share pleasure with one another, the one where their bodies don't at all belong to them but instead belong to the government, isn't all that different from our world today. It's scary that the things serving as warnings in the novel are things we hear and see right now, everyday. Because we DO tell teenagers they can't act on their feelings and that they don't own their bodies and their experiences. But it's beyond that — we tell this to adults, too. We do a lot of denying of human experience, both the good and the bad.
Yesterday is not perfect, though. I had a lot of trouble with the world building aspect in particular, and I found that at times, the explanation for time travel came out a bit more information-dumpy than as smooth and plot-driven. Although it made sense how Freya and Garren were connected and found one another, I found myself with a few more questions at the conclusion of the story. It's not a solid ending, nor should it be, but I wanted to know a bit more about the grandfather they shared in 1985 and what he did or didn't know about the future. I do give Martin mad props, though, because this is her first foray into this genre, and it's her first heavily plot-driven novel. The things that didn't work for me did not keep me from appreciating everything else she did her.
This isn't a didactic novel, and the messages woven throughout the story are ones the readers choose to pull out. There is a lot packed into this, and I think this is the kind of book I'll read again and see what else I can tease out. One of my favorite moments is one of the simplest, and it's one I keep thinking about in terms of the time travel aspect, in terms of the dystopian future, and in terms of the historical aspect of the novel. Freya and Garren are talking about their dreams and what they want to do with their lives, and Freya says simply that she wants to see the whales in the Pacific Ocean. Her goal is to see this beast of nature in the wild. It's so simple — so so simple — but it gets at the heart of not only the notion of living in the moment and in appreciating the moment, but it gets to the heart of the environmental and social messages of Yesterday, too. And really, it gets to the whole heart of being human. It's not an earth-shattering goal but it's an important and worthwhile one nonetheless.
Hand Yesterday off to fans of fast-paced, action-oriented, and plot-driven novels, especially those who love science fiction and time travel novels. It doesn't follow all of the rules of any genre, so readers who like the challenge will dig this. The flap copy compares it to James Dashner's The Maze Runner and I can definitely see this appealing to that crowd. The secondary comparison to Laini Taylor's Daughter of Smoke and Bone, though, is a comparison I'm not sure I agree completely with, except when it comes to things like pacing and character development. This book further cements the fact that CK Kelly Martin is one of the most interesting young adult authors today, and she continues to challenge readers with her strong writing. And man, I give her props for one of the most fun acknowledgment sections in a long time. It certainly set the tune — yes tune — in writing this review.
Previously:
Review of CK Kelly Martin's My Beating Teenage Heart
Twitterview with CK Kelly Martin
"So You Want to Read YA?" Guest Post by CK Kelly Martin
Review copy received from the publisher. Yesterday will be available September 25.