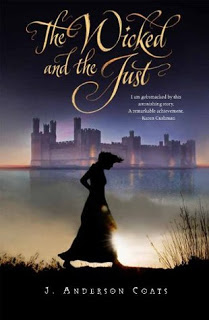 I wasn't really sure what to expect going in to
The Wicked and the Just
, J. Anderson Coats' debut novel. It's a historical novel about a period of history I know almost nothing about: British-occupied Wales in the late 13th century.
Teenage Cecily is dragged to Wales by her father, and she's sure her life is ruined. She sees the Welsh as barbaric and she'd much rather be lady of the house at Edgeley Hall, the estate that has been denied her father in favor of his older brother. Still, she's pleased that she'll have a domain to rule over, which includes bossing around the Welsh servant Gwenhwyfar and her brother.
Gwenhwyfar was intended to be the lady of the house before the British occupied Wales, and she is not happy about her current position. Portions of the book follow her story, and her narrative is bleak and desperate and angry. She and her brother are very poor, victims of the corrupt local British government (not to mention Cecily). They're at the mercy of Cecily and her father, who are both deliberately and casually cruel on a consistent basis.
Both girls' stories show just how hard, dirty, and bug-ridden life in the Middle Ages was. Even Cecily and her father, who belong in the upper class, share a room divided by a sheet, and Cecily's days are full of work. This makes Gwenhwyfar's life seem all the more bleak by contrast.
The Wicked and the Just is mostly a character study of these two young women. Cecily is the primary narrator, and the story mostly belongs to her. She is a maddening character. She's mostly awful – spoiled, bratty, often cruel. (And I mean truly, truly cruel.) As the story is told in her words, though, we develop an understanding and, later on, sympathy for her. While she may not end the book an angel, there's a definite character arc, and she exhibits growth.
Gwenhwyfar's story gains greater importance later on, when the simmering tensions in the town boil over into violence. Now she has the opportunity to visit justice upon the wicked, but her actions are not obvious or easy to predict. The relationship between the two girls is complicated with many ups and downs. Just as you think the two have developed some sort of bond, someone (usually Cecily) does something to sever it.
I want to emphasize that this story is not a case of "mean girl sees the light thanks to the wisdom of the people she bullies." That's far too simple an explanation, and it doesn't take into consideration the insurmountable barrier of class. But Cecily does change, and Gwenhwyfar is a major agent of that change. Coats ties this together nicely in her author's note, explaining that the relationships between people like Cecily and Gwenhwyfar helped turn the tide of violence and corruption in Wales that flourished at this time.
This story is definitely very different from what's hot right now. It also doesn't bear much resemblance to the historical fiction I read and loved as a teenager – I wanted love stories and happy endings and a rosier view of the past than was really realistic. And The Wicked and the Just starts off seeming that way – Cecily's first few sentences are dead ringers for Birdy in Karen Cushman's Catherine Called Birdy. But it quickly changes into something much darker, dirtier, and more violent. This makes it more realistic, and it also means it's a perfect fit for history buffs and readers who crave knowledge about time periods that are not their own. Moreover, the historical details are fascinating and the writing is excellent.
J. Anderson Coats is a member of the Class of 2K12, which means she stopped by STACKED for a
guest post
and
twitterview
earlier in the year.
Review copy received from the publisher. The Wicked and the Just is available now.