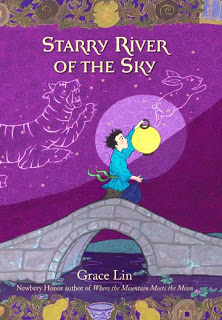 I adored
Where the Mountain Meets the Moon
, Grace Lin's Newbery honoree, when I read it in 2010. I loved the stories within a story and I especially loved the artwork. Reading the ARC of
Starry River of the Sky
, its companion book, is both wonderful and sad – wonderful because I get to experience it that much sooner, and sad because the artwork is almost completely missing. I will be sure to pick up a finished copy of the book to pore over the art when it's released in October.
Rendi is a runaway, but we don't know from what he runs until much later in the story. He ends up in the Village of Clear Sky and is taken in by an innkeeper as a chore boy, though Rendi is far from grateful for it. At the inn, he meets a motley group of individuals: the innkeeper's daughter, whom he loves to taunt; the widow next door, who is always arguing with the innkeeper; crazy Mr. Shan, who dines at the inn every day but never stays the night; and the regal Madame Chang, who is much more than what she seems. Of course, in this book, everyone is much more than what they seem.
Each of these characters has stories to tell, which means the style of River mimics that of Mountain – the mostly realistic main story is broken up by fantastical folklore-ish stories. As the book progresses, these shorter tales turn out to have greater meaning for the larger story than initially thought. I love this idea, and I especially love how important it makes the simple act of telling a story. Rendi initially holds back, not wanting to tell stories as the others have. Eventually, though, after a bit of coercion from Madame Chang, he opens up, and that's when his world begins to change.
Starry River of the Sky is a much quieter book than Mountain. Unlike Mountain, which followed Minli across a country, the main story in River takes place all in one village – and mostly all in one building within that village. This doesn't make it less interesting, but it's much less of an adventure story because of it.
I also found the story to be a bit preachier. The lessons Rendi is meant to learn are pretty obvious. It's not a bad thing for the protagonist to learn something in a novel, I just thought it was more subtly done in Mountain than in River. The lessons Rendi learns in River are more overt, more obvious. This could just be because I had read Mountain and therefore knew the style going in, but I don't think that can account for all of what I noticed.
A difference that I did appreciate was Rendi's attitude at the beginning of the book. Wow, that boy is a brat, and it was very refreshing to read. Usually the true brats are relegated to supporting characters or villains in books, but not here. As the story progresses, we see where the brattiness comes from, and we also see him change gradually. Rendi follows a true character arc.
Despite the differences, fans of the first book will be delighted at this offering, which is entirely Grace Lin and therefore wonderful. I myself am eager to get my hands on the finished copy – this is the kind of book that is so beautiful, it's worth having your own personal copy.
Review copy received from the publisher. Starry River of the Sky will be released October 2.