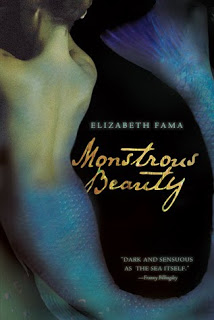 Monstrous Beauty
is a story set in two time periods. In the late 19th century, naturalist Ezra falls in love with mermaid Syrenka. Their romance sets off a chain of events that ends in tragedy. In the present day, 16 year old Hester decides to investigate the curse that has plagued her family for generations – each woman gives birth to a daughter and dies immediately afterward. The book alternates between the two time periods, and it's slowly revealed how the past story informs the present one.
The paragraph above greatly simplifies what is actually a very complicated novel. Hester's family's curse has its roots in Syrenka's story, which involves her desire to live as a human with Ezra, the prejudice of the local people in the small Massachusetts town, and the other mermaids, who won't let Syrenka have her happiness without paying a price. (There are also ghosts, but that didn't negatively impact my enjoyment of the novel.)
The writing in Monstrous Beauty is mature and lovely, making it the book's standout feature. It's clear that Fama took great care in deciding which words to use and when. She's written a moody, immersive story that creates terrific atmosphere without sacrificing plot to do so. When you combine that level of writing with the complex and layered plot, you've got a book that is leagues beyond others of its kind in terms of craft.
The mythology here is something to be celebrated. It's complicated and usually not very pretty. Some of Fama's mermaids may be beautiful, but they're also deadly, with immense physical power (plus sharp teeth and fins that kill). The magic they hold is powerful but also frightening and gruesome, with repercussions that echo for decades. It makes for a pretty dark story (and I mean that in a good way).
Syrenka is an especially intriguing character. She is simultaneously gentle and brutal, not adhering completely to either the mermaids' sense of morality or that of the humans. Her story is so beautifully tragic that it sometimes overshadows Hester's. This isn't necessarily a bad thing, but it does make Hester's story the less interesting of the two. Additionally, since the reader gets the past story before Hester figures it out in the present, Hester occasionally seems a bit slow. This is really my only quibble – sometimes Hester's ignorance went on a bit long and I just wanted her to figure out what I already knew. But otherwise, this is a completely engaging and unique novel.
This book won't be for everyone. Readers who enjoy fluffy paranormal romances will be disappointed. Monstrous Beauty is not full of happily ever afters, and it's got some pretty dark stuff in it. But for readers who crave something a little different in their fantasies, who yearn for beautiful writing and a plot that makes them think, Monstrous Beauty is just what they need.
(It is impossible for me to review Monstrous Beauty without mentioning its original cover, which is just a travesty. Suffice to say, Fama's mermaids would never submit to being photographed for Sports Illustrated. The current cover much more accurately represents the book's contents.)
Review copy provided by the publisher. Monstrous Beauty will be published September 4.