Another two weeks, another batch of interesting links. I think I'm lacking an infographic of some sort this time, but perhaps someone could point me to a good one that popped up over the last couple of weeks (and not the one about librarianship). In the mean time:
This Tumblr cracks me up. First, the url is amazing; second, the name of the Tumblr is perfect; third, it's an image of donuts and a famous literary quote. Brilliantly simple.
Ever wonder about how the questions they ask on Jeopardy are properly researched and sourced? What happens if there's an incorrect fact? This article covers it all. How cool would it to work for Jeopardy as a question creator? Hello, dream job for Jen!
Lots of (unfortunately necessary) disclaimers on this post, but it's one that you need to bookmark and refer to: YA science fiction and fantasy novels with protagonists of color. I cannot tell you how happy I am this exists and how much I plan on referring to it in the future. What a piece of work and also incredibly important.
Pittacus Lore is my favorite "author." Because he keeps being presented as "an author," rather than a collaborative effort out of the creepy James Frey enterprise. However, this article suggests that maybe there really IS a new guy behind Lore now. I also didn't realize the Rachel Carter book was associated with this fiction factory, either. I need to pay more attention. Related: part of why I hate this Pittacus Lore business (besides the obvious) is because I have had to disappoint a teenager before. He really wanted to find Lore on Facebook and become a fan. Guess what? Couldn't do it (at least then) because, well, fake!
This has nothing to do with books and reading, as well as everything to do with it. Are we becoming a culture of braggers thanks to social media? Honestly, I'd rather listen to people talk about their accomplishments on social media than many other things. Also, really? Maybe I don't follow enough people who are willing to brag about their good news.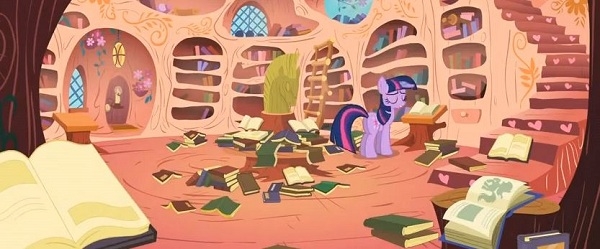 Easily my favorite post in a very, very long time: a professional assessment of Twilight Sparkle as a librarian. What I love about this is everything. It so perfectly encapsulates all of the things librarians actually do in a manner that anyone can grasp. No, it's not a quiet place. Yes, it requires using a brain. No, it involves no reading books at the desk. And so forth.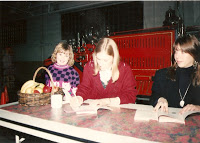 Actually, I lied twice in this blog post. First, it's not the last history-of-reading-culture link. Second, this is really my favorite link. Let's look back at the legacy of The Babysitter's Club with The Atlantic. It doesn't mention Abby except in passing and — after Stacey — she was my favorite of the girls. I know. That's something like sacrilege but it is what it is. Hey, did you know I met Ann M Martin? I was in second grade, and my friend Lauren's mom took us out of school early to go meet her. Photographic evidence to the right. I was so nervous to meet her that I couldn't even ask her to take the picture with me so I just stood close to her and smiled.
This month's Audiosynced will be here at STACKED and it'll likely be a couple days late. I'm in the midst, too, of organizing a really fun series to run at the start of November — stay tuned (such a tease!)