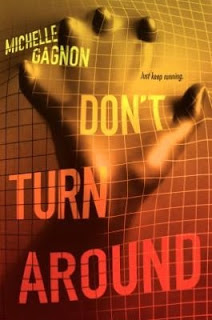 No, this is not a extended treatise on my love for Ace of Base (you know you love them too). It's a review of Michelle Gagnon's first book for teens,
Don't Turn Around
, which I found to be a nice little thriller.
Teenage Noa is an orphan, a foster kid who's been tossed from one family to another with no real successes along the way. Fed up with being in the system, she decided to strike out on her own, living off the grid thanks to her impressive computer hacking skills. It works out pretty well for her until she wakes up one day in a warehouse with an IV in her arm and no idea how she got there.
The book opens with Noa's escape from the warehouse, which means we get action and excitement from page one. The perspective alternates between Noa and a boy named Peter, whose life circumstances are much different from Noa's. His parents are both still living and wealthy, although he has a strained relationship with them since the untimely death of his older brother.
Noa and Peter do have something vital in common: they are both excellent hackers. Peter runs a hacking group whose purpose is to inflict electronic punishment (legal or otherwise) on those who deserve it. When his parents are away one night, his home is invaded and his laptop stolen. He's warned not to investigate it, but of course he does. And then his hacker group is attacked and his parents seem to know something about it.
Peter reaches out to Noa, who he knows only as a faceless individual through the hacker alliance, for her help. Unsurprisingly, Peter's problems and Noa's abduction are connected, and they work together to stay out of danger and figure out what's going on. It mostly involves unsanctioned human medical testing, but Gagnon throws in a very little bit of science fiction which spices things up a little.
The life Noa created for herself was interesting to read about. She makes money in a sort of legitimate way: she freelances for a tech company, and all of her work is virtual, which means she could make up a new identity and open up an account for herself in that new identity's name. But her lifestyle is also very isolating. She can't trust anyone, including Peter, which makes their joint mission a bit more difficult.
Despite the sci-fi twist, which is actually very minor, this is a pretty standard thriller. That's not a bad thing. I like my thrillers fast and exciting and I don't mind when they're a little light on character depth as this one is. I didn't get to know Noa and Peter exceptionally well, but I can still remember what they're like a few weeks after finishing the book, and I do want to read more about them.
Since Noa is a female hacker and a victim of the foster system, people (including the publisher) have been comparing this to Girl With the Dragon Tattoo a lot. I don't see a whole lot of resemblance aside from the similarities I just mentioned. There is zero sexual violence here (something I truly appreciated) and it moves at a much faster clip than GWtDT (thankfully). Gagnon is judicious with her words, which isn't something you could say about Larsson. Noa is tough and hacker-smart, but she's able to get along with people and is clearly a kid where Lisbeth Salander is not.
This would be a good choice for fans of modern thrillers where technology plays a large role. Unfortunately, the technology in the book may also date it rather quickly.