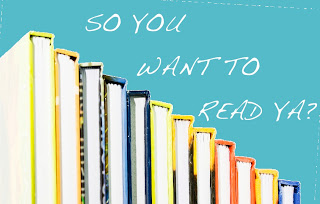 This week's "So You Want to Read YA?" guest post comes from Cybils-award winning author Swati Avasthi.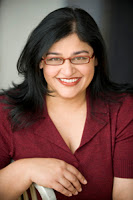 Swati Avasthi is the author of SPLIT (Knopf, 2010) which received the Cybils Award, the International Reading Association Award, a silver Parents' Choice Award and has been nominated for 13 state awards. Her second novel, CHASING SHADOWS (Knopf, Fall 2013), is a part graphic novel/part prose hybrid—her attempt to use an innovative form. Visit her at www.swatiavasthi.com.
No Bow Required
About 10 years ago. I was browsing in a Children's bookstore with my three-year-old son who adored books, who sat and "read" them for long spans, turning the pages, talking to them, "reading"/saying all the memorized words. And, after two hours of him reading and browsing, I was bored. (I know, I know, a shorter attention span than a three year old, yep.)
I wandered over to the YA shelves and a cover caught my eye.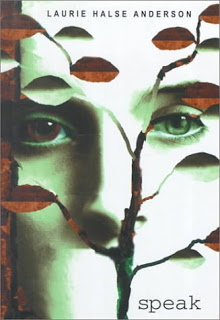 But I hesitated.
Like many YA writers, I grew up when YA wasn't a category or a section in the bookstore. I thought of "teen lit" as Sweet Valley High romances and shunned attempts to home in on the teen experience in Saturday Afternoon Specials with their sloppily-tied bows on the end. The weren't honest; they were just … lessons, thinly disguised.
But then again, there was that cover! (Yes, in truth, I started reading YA and then writing YA based on a cover. Thank you marketers; apparently, your awe-some powers can be used for good).
I gobbled it at home, making my poor son impatient.
I didn't know books for teens could talk to them honestly. Jane Resh Thomas says, "I think it is a sin to tell lies to children about the world as a place of sweetness and light or about the world as a place of misery and agony." I didn't know contemporary realism could tell kids the truth: life is ambiguous and no emotions are simple. Stick a bow on that.
Until recently, I hadn't reread Speak, afraid that the book that drew me to the genre would pale on rereading, that after teaching writing and learning to look for cracks in the techniques, it might not withstand my scrutiny.
But I re-read it anyway. And now … I love it more now because I see how hard it was to do.
Contemporary realism knocks me out when the form—the structure, the time management, the evolution of the character—mimics the emotional journey of the protagonist. That way the reader's experience is linked to the journey and the honesty in the piece resonates. I love novels that take big risks and find a new way to tell a story, novels that innovate making novels well…novel.
Check out how John Green uses time in Looking for Alaska; how Pete Hautman varies point of view in Blank Confessions; how A.S. King alternates time periods in Please Ignore Vera Dietz; how memory can be captured in a painting in Brian Farrey's With or Without You; how Gene Huang incorporates myth and story and identity in American Born Chinese. Or what Larbarstier does to the unreliable narrator in Liar. Or how Julie Schumacher's Blackbox creates punch-to-the-gut chapters that are a single sentence long.
Laurie Halse Anderson (author of Speak) said once, "One of the things I most love about writing for teens is that they are open-minded and embrace new narrative techniques. I love playing around with new stuff." I love books that love that play, that innovation.
YA is a form filled with innovation, and why not? It's a form that is written for teens (like my still-avidly-reading son), who are the definition of innovation, who are in the process of self-evolutions, who are seeking honesty as they try to make themselves new—no bow required.