You should all be pleased to know there is a new Lana Del Rey video to share with you in this edition of Links of Note. I know that's why you all come and visit, so fear not. I'm going to make you read through some other stuff before we get there, though.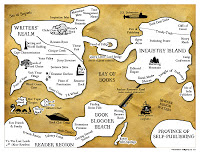 Kate Hart is amazing, absolutely amazing. This time, it's because of her publishing road map infographic. If you are interested in writing, in getting published, in blogging, in librarianship, there is something here for you. The whole graphic is well done, but I'm particularly enjoying the "Link Bait Leviathan" image.
Is there such thing as a balanced reading diet? According to Harvey Schachter there is. Can you hear me gagging? This is why some people hate reading. There's no prescription. Read what you want, when you want, and in the style you want.
Put this on the list of things that left me speechless: Hunger Games inspired weddings (that's two links for two different HG wedding inspirations!). Uh. Aside from missing the entire point of the story, to me, this looks like it's more, how to say, Earth inspired than Hunger Games inspired. This…really? That's all I can say.
School Library Journal is hosting a virtual day-long teen lit conference called SummerTeen. There is a cost to attend, but it's reasonable, and the program itself looks like a great opportunity to learn for both new YA lit folks and seasoned YA lit folks.
Shortlist asked artists to consider alternate covers for classics, and here are the 30 favorite results. Some neat ideas going on here. The cover on the right here might be my favorite (I hate Romeo & Juliet so much so you know but don't they look way older than 14 here?).
The Guardian offers up ten "feel good" books with happy endings. I've actually read three of these. I don't remember much of any of the three I read, either. Happier books don't tend to stick with me as much as books that require a lot more of me to find some sort of satisfactory conclusion (happy or not!).
How this news slipped past me in May I don't know, but here it is: did you know Caroline B Cooney is writing a final book in the Janie series? She explains why and what it might look like. I'm not sure I'll read it or I'm interested, since it's been so long since I read the series in the first place. I don't want to go back and reread for fear of thinking they're no longer worth the time. There's something to be said about nostalgia remaining that way.
I really liked this post by Paul Hankins about all of the "F-words" he has known. It's not really about F words in the profane sense but in the opposite sense — those F words we find when we read a book that aren't there to see and feel explicitly. He writes with his students in mind, but what he talks about is on a much grander level about the power of the right book in the right reader hands.
Another Shortlist link, and this one is to famous meals from literature. In photographs.
What happened to the Sweet Valley Twins when they grew up? What about the kids who went ahead and plotted to kill their teacher a la Lois Duncan? Well, now you know.
And now what I know you all came here for in the first place: the promised Lana video. This is for "Summertime Sadness." I'm not a huge fan of either the song nor the video (so much falling) but I do it for you:
I know there is a ton of stuff I missed from the last two weeks about reviews and Goodreads and bullying and I've been silent on the whole issue. My comment on that is this and only this: I know how much it sucks to be bullied when you post your opinion on something. It. Stinks. This has been a long month, and I feel for everyone getting the brunt of this and it's not going to go away for a while. Let your words and your beliefs stand for themselves.