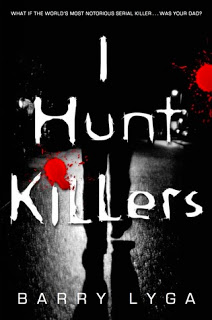 Jasper "Jazz" Dent is the son of the world's most famous serial killer, Billy Dent. Since Jazz was a little boy, Billy had been training Jazz in the family business. Billy himself is a true sociopath, and he killed far and wide in gruesome ways. He killed well over 100 people before he made a mistake and was eventually caught and given a life sentence.
Jazz was sent to live with his grandmother, Billy's mother, who is senile, which means he pretty much takes care of himself. Despite being Billy's son, Jazz himself had not yet committed murder and can pass himself off as a "normal" teen boy. He's got a best friend and a girlfriend and is in the school play. But being the son of Billy Dent did a number on him, and he knows how to manipulate people, how to hurt them and get away with it, and he's haunted by the voice of his Dear Old Dad that seems to always be telling him that other people don't matter, that they exist only for his enjoyment.
When a young woman turns up dead in Jazz's town, he's convinced it's another serial killer. The sheriff isn't so sure, so Jazz sets out to prove it to him. As it becomes increasingly clear that this new killer has connections to Billy Dent, Jazz is even more determined to hunt him down and prove that he himself will not turn out like his father.
Let's get the inevitable comparison out of the way: Yes, this is a lot like Dexter for teens. It's not just a marketing phrase. I haven't read any of Jeff Lindsay's books, but I have watched a bit of the television show, and there are certainly a lot of similarities.
That said, what made
I Hunt Killers
an enjoyable read for me is how it diverges from Dexter. Jazz was raised to be a killer by his father and it's a constant struggle for him to not act on impulses that have been hammered into him for years. He feels guilt over his actions (particularly when he manipulates people to get what he wants), and he's horrified by his more violent thoughts. He doesn't want to be a sociopath with no regard for others' feelings or right to life. And this is the marked difference between the two characters: Dexter
knows
he is this way; Jazz
fears
he is this way. While Dexter as a character was engaging in a creepy way, Jazz as a character is engaging in a human way.
He's also a character with a great voice. This story doesn't sound like it was narrated by just anyone, and I thought Jazz came across as very authentically teen boy.
So, I like the way Lyga wrote his protagonist, but I also like the way Lyga writes, period. He's clearly a pro. There are no awkward sentences, no stumbles, no rookie mistakes. I
don't dislike debut novels, but sometimes it's nice to read a book by
someone who's done this before. It really shows here.
The mystery itself is enjoyable, if a bit predictable. Lyga doesn't present the reader with a huge host of suspects, so it's not hard to figure out the culprit. But the journey there is a thrill ride, and Lyga includes enough subplots to keep even the most perceptive reader's interest.
Mysteries can run the gamut from pretty tame to pretty explicit, even when the subject is murder. I Hunt Killers is, probably unsurprisingly, on the more explicit end. The acts of violence are described in detail, and they are pretty twisted (the word "flayed" is used more than once). There's also a fair amount of description of sexual assault. Dear Old Dad did pretty much anything you could think of to his victims, who were almost exclusively female. It's certainly appropriate for a teen audience, but it won't be for every teen.
I Hunt Killers does what mysteries do best at the end: wrap up the current mystery and present us with other character-centric mysteries to solve in forthcoming novels. There's closure AND there's the desire to read more. I look forward to potential sequels, but I'll have to space them out with some less brutal reads.
Review copy received from the publisher. I Hunt Killers is available now.