Matthew Jackson returns for a guest review of the YA fantasy/science fiction novel Fair Coin by E. C. Myers. Jackson has been sporadically guesting for us for a while now, most notably his series on Horror Lit 101. An avid reader and reviewer, he reviews adult fiction for BookPage, is an entertainment journalist at Blastr.com, and will have a short story published in the forthcoming issue of Weird Tales Magazine. You can visit him online at his tumblr and Twitter. (Full disclosure: he also happens to be my boyfriend, and I am proud to say that I have significantly increased the number of YA books he reads.)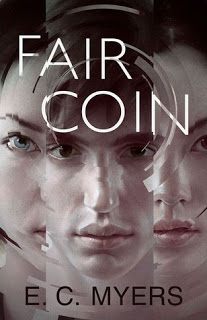 I'm not one of those reviewers who groans at genre classifications. Sometimes I think we have too many of them, and sometimes it frustrates me when readers refuse to venture outside of their "paranormal romance" or "urban fantasy" or "contemporary YA" comfort zones, but overall genres are fun for me. That's all by way of saying I'm a devotee of numerous genres, but it still makes me happy when I find a truly genre-bending book that manages to cleverly blend conventions while going its own way. It makes me even happier when the book in question is shelved in the young adult section, an area which – in the age of countless paranormal melodramas and dystopian rebellion adventures (neither of which I mean any offense to, by the way) – could use all the genre-bending it can get.
Sixteen-year-old Ephraim's life is plunged into chaos when he comes home one day to find his mother slumped over the kitchen table after a suicide attempt. That's problem enough, but things get even more harrowing when he discovers why his mother tried to kill herself: earlier that day, she was called to the hospital to identify the body of her dead son. A boy who looks just like Ephraim is dead, and among his belongings (which Ephraim's mother brought home from the morgue) is a mysterious coin.
Curious and scared, Ephraim takes the coin and accidentally discovers that it seems to grant wishes. The wishes start small, little experiments to test the object's power. But as the wishes grow, and as Ephraim learns what the coin is capable of, he realizes that every time he changes something voluntarily, something else involuntarily shifts along with it. There's more than simple magic going on, and as Ephraim tries to hold it together with his best friend, his crush and his mother, he realizes that unless he can come to understand what the coin really is, everything will fall apart.
I've talked about this before, and I'm never really sure that I'm making sense when I say it, but I like stories that unfold. There's nothing wrong with a predictable, direct tale if it's told well, but my favorite stories are always the ones that feel like every chapter is a discovery rather than a signpost on some big story map. It's more fun when the story is revealing itself to me rather than pushing me on to the ending. Of course, I want to get to the ending, but I want to feel like I'm experiencing something along the way. Fair Coin is that kind of book. Myers deftly and gracefully weaves fantasy, science fiction, mystery, romance and teenage uncertainties into one tight, compelling package. It's a page turner that also packs real weight into every chapter, and that's always a worthy book.
If I have a complaint, it's the dialogue, but I'm not necessarily blaming Myers for that. His prose is direct yet vivid, his pacing is wonderful and his story is fascinating, but the dialogue never quite feels real to me. There's too much exposition packed into the mouths of the characters in places, and the human moments sometimes stumble a bit over clumsy lines. But in all fairness, that might just be me. It might ring completely true to teen readers, but even if it doesn't, the dialogue doesn't get in the way much.
Fair Coin might not have the same kind of instant appeal that some YA genre novels pack, but if you're willing to make the leap it's worth the investment. It's a tale that twists genres without breaking the rules of any of them, told with fire and confidence and a sense of humor. E. C. Myers has quite simply done something wonderful here, and if you're frustrated with predictable genre fiction you'll be glad this book exists.
Finished copy received from the publisher. Fair Coin is available now.