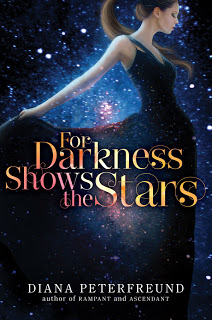 Elliot North is a Luddite, a member of the land-owning aristocratic class that has sat at society's peak since the Reduction crippled humanity. Thought to be the result of over-reliance on technology and scientific experimentation, the Reduction caused a large portion of the population to give birth to mentally deficient babies, a condition that persisted for generations.
The Luddites outlawed technology and have since then ruled over the "Reduced" (those with reduced mental capabilities) and the "Posts" (children of the Reduced born without mental deficiencies) who live on Luddite land and serve them in much the same way indentured laborers or slaves did in the American South. Posts are actually fairly new – for many generations, children of Reduced people were Reduced themselves.
Kai is a Post. He grew up on Elliot's father's land, and the two became friends as children, despite the huge social gulf between them. And they eventually fell in love. When Kai decided to make a better life for himself, far away from a place that kept him a prisoner, he asked Elliot to come with him.
She said no, choosing loyalty to her family over Kai. Now it's four years later, and Kai has returned with a new name, a new job, and a secret. He and his group of explorer Posts have rented land from Elliot's family in order to build a ship, which brings Kai into almost daily contact with Elliot. There's tension and longing and restraint and recriminations and all the other good things you find in a really delicious romance.
For Darkness Shows the Stars
is more like Austen than some other modern or SF/fantasy re-tellings in that Peterfreund concentrates a lot on the society and the complexities of her two leads and not as much on the plot. That's not to say that there isn't a plot, but this is certainly a character-driven story. Readers looking for a more "traditional" dystopian/post-apocalyptic novel that features plenty of action and shocking plot revelations will be disappointed.
Readers looking for a steamy romance will also be disappointed – Elliot and Kai barely even touch. But it's swoon-worthy all the same, for the same reason modern readers still find Austen's original works swoon-worthy: mature, lovely writing that connects us so closely to Elliot and Kai that we feel each misunderstanding, each look, each unspoken sentiment keenly. It makes for a pretty intense read, and it's a testament to Peterfreund's writing that she's made a book with almost zero physical contact so romantic.
I was pleased with the way she wrote the society as well. It's an impressive feat of world-building, with plenty of detail that unfolds naturally over the course of the story. Unlike many stories that feature a blighted future society, this one makes sense in the context of the story's events. It's also not sensationalized. The Reduction is a terrible thing, and what the Luddites did to the Reduced and the Posts since then is also terrible, but I never felt that it was done to shock. And for all that this setting is so very different from that of today and is so vital to the story, it's still just the setting. The real story is about Elliot and Kai's relationship, and Peterfreund doesn't make their desire to investigate the Reduction the primary plot point. Their relationship and their own growth as individuals are what she is most concerned with.
For Darkness Shows the Stars was a real breath of fresh air for me. It's a dystopia and a romance and an Austen re-telling, but it's a unique story and not a carbon copy of anything else. Plus the writing is excellent. Highly recommended.
Book borrowed from my local library.