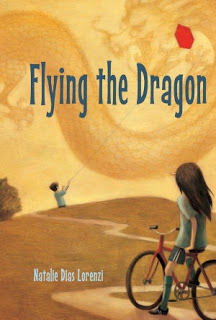 Skye has never met her grandfather. She's never met her aunt, uncle, and cousin Hiroshi either. But when her grandfather gets sick, all four of her relatives move to Skye's town from Japan for Grandfather's course of treatment. While Hiroshi and his family don't live with Skye, he still intrudes into her life far more than she would like. She's forced to be his translator in school, which causes some of the other kids to make fun of her; her father is suddenly embracing his Japanese heritage, throwing out foreign phrases in front of her friends and cooking new foods; Hiroshi is hogging the attention of her Grandfather, who she is finally getting a relationship with for the first time; and, worst of all, she is now required to pass an intensive Japanese test if she wants to be able to play on the all-star soccer team. Hiroshi, on the other hand, has to deal with fitting into both a new school and a new country, figuring out the nuances and slang of the English language, and coming to terms with the fact that his beloved grandfather–and best friend–is gravely ill. His grandfather, the man who taught him everything he knows about rokkaku, Japanese kite flying/fighting, the hobby that Skye seems to be trying to horn in on, just as Hiroshi is trying to prepare for the rokkaku battle at the annual Washington Cherry Blossom Festival.
Flying the Dragon was a lovely middle grade novel that tackles cross-cultural conflict between family members who gradually also become friends. The novel alternates chapters between Skye's and Hiroshi's perspectives, and each character is developed enough that the duel narratives each have their own unique voice. Usually when I read a novel with multiple perspectives, I immediately gravitate towards one narrative, breezing through the other sections until I return to my 'favorite.' Not so with Flying the Dragon, as Hiroshi and Skye's struggles were both compelling, their personalities both entrancing. In different ways, the two both feel caught between cultures: Skye not sure whether she should accept her Japanese side (years ago she rejected her given name, Sorano), and Hiroshi not sure whether he can ever feel comfortable in America, where people don't eat rice for breakfast, teachers are called by their last name, and people don't sleep in mats on the bedroom floor.
It was definitely refreshing to read a book that concentrated on the family bond, rather than on the friend bond. While the worlds of most middle grade students do revolve around their friends, and much of middle grade literature reflects this, the family relationship is just as important to many kids. The back story of Skye's father's break with his family was touched upon but not stressed, a fact which I liked, as it did not take the focus away from the children's struggles. And the bond between Hiroshi and his Grandfather was absolutely wonderful to behold. I really enjoyed this sweet, heartwarming read.


Disclosure: Finished copy received for review from Charlesbridge Publishing.