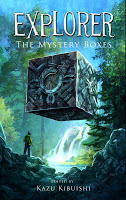 Explorer: The Mystery Boxes edited by Kazu Kibuishi
I love the Flight anthologies for their art, but the stories themselves are very hit and miss. Explorer is the version for younger readers, and this is the first volume I've tried. I found it pretty similar to the "grown up" Flight anthologies: great art, inconsistent storytelling. The unifying theme is a box of some kind, and the artists are free to interpret it as they wish. In one story, a boy finds a mysterious box in his closet and is soon visited by wizards willing to pay a high price for it. In another, a box is the mechanism by which a butter spirit is trapped.
My main issue (with this collection and the Flight anthologies on the whole) is that so many of these stories are very slight or clearly just the beginning of a longer tale, which makes them pretty unsatisfying. But as far as art goes, you can't beat these anthologies. (Kibuishi's offering, which closed out the collection, was the real stand-out in both art and story.)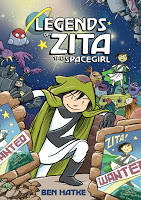 Legends of Zita the Spacegirl by Ben Hatke
I reviewed
Zita the Spacegirl
back in 2011 and was pleased to find that Hatke wrote a sequel. The follow-up is just as fun and lively. After the events of the first book, Zita has become a celebrity. She signs autographs and is the envy of robots everywhere, and one robot in particular. In fact, this particular robot is so envious that it starts impersonating Zita, causing all sorts of trouble. And then there's that planet that needs saving, and Zita still wants to find a way home…
Hatke's artwork is colorful and eye-catching, comparable to Raina Telgemeier. This volume is a little less self-contained than the first, but most readers shouldn't mind – it means there is more to come.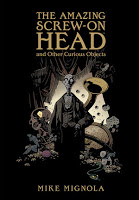 The Amazing Screw-On Head and Other Curious Objects by Mike Mignola
This is a collection of short stories by the renowned Hellboy creator, and two of them won Eisner awards. I may be committing blasphemy here, but I don't understand why. The stories seemed inane to me, like they were bizarre simply for the sake of being bizarre. I found Mignola's take on Jack and the Beanstalk to be minorly enjoyable, but the rest were not my cup of tea in the slightest. Similarly, the artwork is not my style.
In reading reviews of this collection, many fans state that this is not the ideal place to start reading Mignola, but I can't say I'll give anything else a shot. (As always, your mileage may vary.)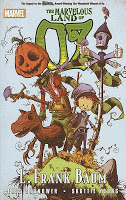 The Marvelous Land of Oz by L. Frank Baum, adapted by Eric Shanower
I love these books and I love Eric Shanower for doing them so well. I don't think I've read this book since I was a kid, and as I read Shanower's adaptation, I'm reminded of the wonderful wordplay and dry humor Baum was so good at. I'm also reminded of just how good the sequels are and how much readers miss when they stop at book one.
I love how vibrant the colors are here, and I mostly enjoy Skottie Young's artwork, although I tend to prefer Shanower's (included in this compilation are several alternate covers done by him). Some of Young's characters seem a bit more frightening in appearance than I think they're meant to be, particularly the Scarecrow and Jack Pumpkinhead. Those are minor quibbles, though, as Young's art superbly captures the spirit of the books and is infused with energy.
The third compilation is already out and the fourth is in the works. I don't buy many comics for myself, but I'm considering purchasing these – they are that good.