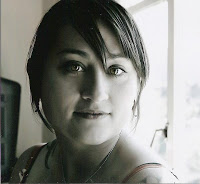 This month, we're interviewing Amy Reed, author of Crazy (released yesterday), as well as Clean and Beautiful, both as part of our monthly Twitterview series and as part of the Summer Blog Blast Tour — check out the entire schedule for the SBBT for more author interviews.
Amy's here to talk about the inspirations behind her story, her choice in setting, and the experiences that led her to write about teens who don't always have it easy or don't always come out unscathed. You can enter to win a copy of Crazy, too, at the end of the interview.
Pitch Crazy in 140 characters.
A bipolar love story.
What inspired Crazy?
My own experiences with depression and trying to understand what it's like on the other side of the relationship.
Izzy succumbs to a dark bout of depression without becoming a cliche. What sort of research did writing her story require?
The best sources were my own experiences and relationships with amazing people who suffer from mental illness.
You write from both Connor and Izzy's perspective. Did you find one easier/more exciting to write than the other?
Writing Izzy when she was manic was the most exciting because I got to feel it too. But I got to leave and she didn't.
Crazy is set up as an exchange of emails. Why that format?
I was inspired by two of my favorite YA novels: The Perks of Being a Wallflower and Punkzilla, which are both brilliantly told in letters.
Seattle is the setting (at least in part) of all three of your novels. Any reason?
That's where I grew up. When I think about life as a teenager, I picture it happening there.
Why do you write YA?
I want to write the books I needed when I was a teen but couldn't find.
Who or what do you write for?
I write for everyone, but especially teens who might be a little bit lost and need help finding their path.
What was your most influential read as a teenager?
The poetry of Anne Sexton and the book Girl, Interrupted.
Who are your top three writing influences?
Anne Sexton. Richard Russo. Margaret Atwood.
Who do you believe is breaking ground in YA right now?
If a genre called "Literary YA" exists, John Green and Laurie Halse Anderson are the king and queen of it.
What's the best writing advice you ever received?
Figure out what your character's biggest fear is, and then make them confront it.
What's your best writing advice to give?
Show, don't tell.
What is your writing routine?
Take notes all week, then sit down to write Friday and Saturday. Wake up early and really think of it as going to work.
What gets you jazzed to write?
Believing that my characters need me to tell their stories.
Do you have a writing soundtrack? Care to share a bit?
Silence. Music influences my emotions too much. I want to let my characters have all my attention.
What's next for you?
Just sent Book #4 to my editor, so I'll start edits for that soon. Starting writing Book #5, which will be done next spring.
Favorite ice cream?
Anything chocolate
As I was preparing this post, I stumbled across Amy's very personal blog post about the inspirations behind Crazy that is worth reading. She talks a little bit more in detail about some of what she mentions in this Twitterview.
Want a copy of Crazy? Fill out the form below. I'll pick a winner June 30.