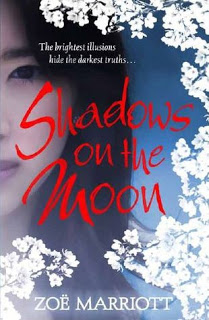 Have I mentioned I like re-tellings of fairy tales? Maybe once or twice (or a dozen times)? I never seem to get tired of them. Cinderella is among my favorite, and
Shadows on the Moon
by Zoe Marriott is a great example of a stand-out re-telling in a very crowded field.
The setting is feudal Japan – if feudal Japan were a place where a young woman like Suzume, our protagonist, could transform her appearance with a thought.
But I'm getting ahead of myself. The story is divided into three parts and begins with Suzume at age fourteen at home. It starts violently: her family is killed on the emperor's orders and Suzume is only able to survive thanks to the help of a kind servant and a clever hiding place. Her mother, who had been away at the time of the attack, soon returns to find her family destroyed. Luckily (?), Suzume and her mother are taken in by a friend of her father's, whom her mother soon marries – but if you know anything about Cinderella, you know this newfound stepfather is anything but good.
Parts two and three delve into Suzume's newfound abilities as a shadow weaver, which gives her the ability to change her appearance. This ability comes in handy when she's on the run from those who mean to do her harm (including an evil stepfather), and it paves the way for her plan for revenge. Suzume means to get back at those who killed her family and ruined her life, and she plans to do so by becoming Shadow Bride. As Shadow Bride – the mistress of the Prince – Suzume would be granted the ear of the Prince and therefore an enormous amount of power. She plans to use this power to rain down vengeance on her stepfather and those who conspired to have her father killed.
Intertwined with all this is a romance with a male shadow weaver, a visiting noble from Africa. There's the expected tension between Suzume's need for vengeance and her desire to abscond with her love and forget about what happened in the past. The end is never really in doubt, but it's a terrific read getting there.
There's so much of interest here that sets it apart from a standard re-telling. Marriott has created a unique culture in Suzume's world as well as that of Otieno, her love interest. It was lovely to read a story that was not only NOT set in a Western locale, but that also featured two non-Western leads.
The mythology surrounding the Shadow Bride was particularly fascinating. The young woman selected as Shadow Bride must demonstrate physical grace and perfection. She is almost always a virgin, dances impeccably, says just the right thing, and ingratiates herself with the right people to win an invitation to the ball that will determine if she is selected. This culture is not only interesting, but is also ripe for discussion about the meaning of physical "perfection" and the toll it takes on a person who pretends to be someone she is not.
A little while into the story, Suzume teams up with a previous Shadow Bride (such brides are given this status for a year only) who promises to help Suzume achieve her goal. This Shadow Bride, however, is very different from what she seems – which makes her a thoroughly fascinating ancillary character.
Shadows on the Moon is an easy book to recommend to fantasy lovers. The writing is lovely, the story unique, the themes well-developed, and the voice authentic. It should be at the top of the list for anyone interested in fairy tale re-tellings or anyone looking for a good fantasy.
Review copy received from the publisher. Shadows on the Moon is available now.