Over the last couple of years of blogging, I've had the chance to meet so many great people, and one of them is Lenore Appelhans. We had the chance to spend quite a bit of time together at last year's BEA, where we talked about books we loved, about authors we're huge fans of, and about her book. Since then, we've talked more often than not, and earlier this year, she approached me about beta reading Level 2. It meant a lot to be asked to offer feedback and suggestions and I was so excited to do it for her.
I can't imagine how nerve-wracking it was for her to ask that, but I'll tell you this much: I was just as nervous to read and give honest feedback on her story. It's a different world than when you're reading a finished book and review it. You have to remove your own preferences or preconceptions of genre and instead evaluate the story as it stands. You also have to completely separate story from writer, too, in a way that's much more challenging than when you review a book.
I was scared, too, because Level 2 wasn't my kind of book.
As I was reading and offering feedback, though, I found myself invested in this story. These characters were so well-developed and the world was well-built. It's never quite clear who is good and who is bad, and what the characters tell you about themselves doesn't necessarily end up being the case. There's palpable and fierce romantic tension here, too.
But before I offer you up my review — which is less a review and more a recommendation because I cannot possibly review this book without bias — Lenore asked me if I'd be willing to share the full finished jacket of her book. You've already seen the behind-the-scenes work of what went into the creation of the jacket, but what I've got here is the full deal.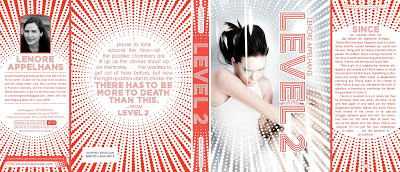 When I first saw this cover, I fell in love. Aside from fitting the story so well, it avoids many of the things I don't care for in YA covers. First, it's bright: this is a book that's going to stand out on bookshelves because it's white and pinkish orange, a combination that pops. The use of the circles all over exist in the story. The cover model, who looks a little bit like Bjork, is how I imagined Felicia to appear. She's facing readers in the image, and it's clear she is pained. It's clear she's aching. But rather than looking passive, the girl on the cover here doesn't look like she's ready to just take it. The tension in her body language says she's going to fight.
If there were a few words I could use to describe Felicia, Level 2's main character, they would be pained, aching, and….a fighter.
The cover is so clean and crisp, and that's precisely how I imagined the world of Level 2. But there's something amiss in a world that's so sterile. And I think this captures that well. I'm also a huge fan of how the title and author name is sideways, and that style is mimicked on the chapter headings, too.
Anyone who follows me on Goodreads has probably seen my comments on this title already, but now that the cover's out there, I'm going to share them again here. Before I do, I want to put the disclaimer out there that I read this in manuscript form — well before this made it to galley form — and some elements of the story have been changed since my read.
Felicia's life in Level 2 is comfortable. She's got everything she needs, and she's able to be so content because she can slip into her machine and relive her memories. Except she is unable to be happy because she can't put her finger on what happened to her. The problem is she keeps reliving a memory that breaks her heart: she keeps living through the time she lost her chance with Neil, the boy she'd fallen for. When she's about to reach the truth, it slips away from her cruelly.
So when Julian shows up in Level 2 and promises he can reunite Felicia with Neil, she jumps at the chance to know the truth about her life, her death, and to reunite with Neil.
Appelhans's debut is a dystopia with a dash of the supernatural, written in compelling, action-packed prose. What seems like a fairly straightforward story of escaping from what looks like a utopian world — Level 2 — turns out to be something much more sinister. Felicia is caught between two worlds, and the success or failure of either and both depend upon her. The story is told both in the present and in the past, through Felicia's memories, which gives the reader not only a sense of who she is now, but a real feel for the whole girl who has lost so much in her life.
What made this book work for me was that it's never clear cut who is good and who is bad. It's easy to see Felicia as the good girl, but there are many times I wondered if she wasn't. If she was just as bad as people like Julian…or if Julian himself was even bad. He did offer Felicia a chance to meet Neil again, even if it meant giving away a part of herself. When it looks like he wants to do nothing more than use her as a tool, he flips the switch and gives readers (and Felicia) reason to wonder if he really DOES want the best for her. That he's not being selfish and greedy. Appelhans does a great job of never hand-holding the reader.
I'm not a romantic, but the moments between Felicia and Neil made my heart swell quite a bit, especially since it was so uncertain. But I can so see readers thinking they're very wrong for each other. That Julian is the person to whom Felicia should give her heart. There's also the question of whether Felicia deserves to be with anyone, given her less-than-perfect history.
Level 2 is a complete story, though there are enough threads left open to warrant another installment.
As a thanks for giving feedback, Lenore sent me a copy of the soundtrack she made while writing the story (and German chocolate!). If I could pick one song that really captures the essence of Level 2, it would be this:
Interested yet? Make sure you head over to Lenore's blog for a chance to win an ARC of Level 2 and add this book to your Goodreads shelves here. Level 2 is slated for a January 15, 2013 release.