I mentioned in the last post I picked up really few books at ALA because I was so busy working and so stressed whenever I went into the exhibit hall. But I've been told more than once how helpful these lists are of what was available, so I thought I'd share what I did pick up.
One of the things I thought about when leaving was how behavior was this year, whether or not there was any strong divide between librarians and bloggers. I have to say, I think there was. While there wasn't the level of behavior there was at Midwinter, I felt like there was a definite increase in the number of bloggers who attended ALA and saw it as "a book event." It's not. It's a professional conference wherein professionals are attending meetings and working.
That said, I have been pleased that there haven't been "book hauls" posted left and right this time like there was at Midwinter. There haven't been posts about giveaways of books picked up at ALA. So, while I think in-person behavior was still a little (a lot) frustrating, the online behavior afterward was really refreshing and positive.
Anyway — the books. Sorted by publisher and publication date. Links go to Goodreads. All of the books pictured below didn't make it home with me — some went home with someone else.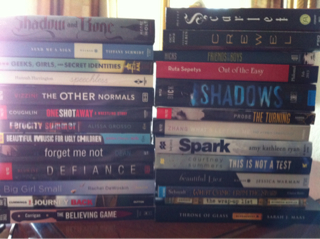 Bloomsbury
Throne of Glass by Sarah J Maas (August 7)
Beautiful Lies by Jessica Warman (August 21)
Send Me A Sign by Tiffany Schmidt (October 2) — I finished most of this on my ridiculous plane journey yesterday and can say it's not only a great read but it's going to have massive appeal to your Jenny Han fans.
Egmont
Shadows by Ilsa J Bick (September)
Flux
Ferocity Summer by Alissa Grosso (Available now)
Beautiful Music for Ugly Children by Kirstin Cronn-Mills (October) — I've read this one already and it's definitely one of my 2012 favorites. I cannot wait to reread it.
Houghton Mifflin
What Came From the Stars by Gary D Schmidt (September 4)
The Wrap-up List by Steven Arntson (January 8, 2013)
Harlequin
Speechless by Hannah Harrington (September)
Harper Collins
Defiance by CJ Redwine (August 28)
What's Left of Me by Kat Zhang (September 18)
The Other Normals by Ned Vizzini (September 25)
The Turning by Francine Prose (September 25)
One Shot Away by T. Glen Coughlin (October 2)
Macmillan/Imprints
Friends with Boys by Faith Erin Hicks (Available now)
Scarlet by Marissa Meyer (February 2013)
Penguin
The Journey Back by Priscilla Cummings (December)
Out of the Easy by Ruta Sepetys (February 2013)
Scholastic
The Raven Boys by Maggie Stiefvater (September)
Geeks, Girls, and Secret Identities by Mike Jung (October)
Simon and Schuster
Forget Me Not by Carolee Dean (October)
St. Martins Press
Big Girl Small by Rachel DeWoskin (Available now)
Spark by Amy Kathleen Ryan (July) — Kim and I were both really excited by the first book and are so looking forward to the sequel.