I'm super excited about this year's ALA in Anaheim for a number of reasons. I believe this is my 5th ALA conference, and it's in the same place where the first one I attended was (where, incidentally, I got to go for free because I won a little paper contest).
A big reason I'm excited is that it's the first time I'm participating as part of an awards committee. I'm actually not a committee member, but I am the administrative assistant to the Alex Awards, and it has been totally eye opening in terms of how much work the members have put into nominating and reading the titles under consideration. I'm eager to watch the process as members talk about the books in person, since I've only been listening via email so far.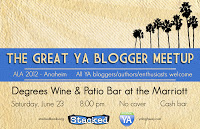 I'm looking forward to the YA Blogger meet up too, and hope I get the chance to meet a number of people I've had the chance to talk to via the blog and Twitter. We don't check your cred at the door, so even if you haven't actually blogged in a long time, you're still welcome to show up. It is ALL AGES, too.
Topping the chart of "things I'm excited about at ALA" is the one I haven't talked too much about: I'm presenting with Jackie on Sunday. We're going to be talking about passive programming for teens in libraries, and this presentation has been over a year in the making. I think the thing that's most exciting about it is we wove the word "subversively" into the title. If you're around Sunday and are looking for a presentation to listen to, it'd be neat if you'd consider ours.
I've got a small list of galleys I hope to snag when I get a minute to check out the exhibits (I think maybe 3 titles are on it). The fun, of course, is finding things I didn't know about and hearing what the publicists are excited about (not always those big budget titles, by the way). If you're going to ALA for the first time, please read my post about ARCs and then check out Sarah's post on convention behavior (who, incidentally, I am so excited to see, too — the two of us have spent the last 4 conferences "together," but we have never actually had a chance to spend time together ourselves and we are going to this time).
Aside from these things, I've got a list of other things I'm planning on going to and doing, but I'm saving much of that for after the convention to talk about. I've also already packed a copious amount of tea — I know there will be little or no sleep already.
Going to ALA? What are you looking forward to most?