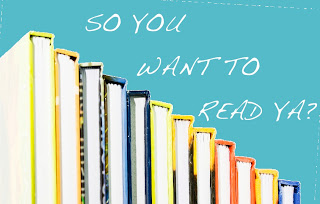 Today's guest for our "So You Want to Read YA?" series is Lee Wind.
Photo by Rita Crayon Huang
Lee Wind is a Blogger, Author and Speaker. He has a masters degree in Education and Media from Harvard and is widely seen as an expert in GLBTQ Teen Literature. His award-winning blog "I'm Here. I'm Queer. What the Hell do I Read?" gets over 200,000 page loads a year, and he's the official blogger for the Society of Children's Books Writers And Illustrators. His articles and interviews with luminaries in the world of Children's Literature have been published on-line and in print, including the 2011 and 2012 editions of "Children's Writer's And Illustrator's Market." He speaks to thousands of students and educators a year, conducting Smashing Stereotypes workshops and presenting Safe Space: Ending Anti-Gay Bullying in our Culture… and at YOUR School programs. You can find out more about Lee at www.leewind.org.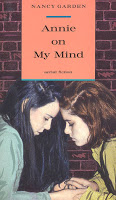 I often joke that for writers of kid lit, we have these ages of arrested development – these times in our childhood when colors seemed fiercer, tastes exploded in our mouths, and our memories seem so real that we can go back there in an instant. And those are the times we go back to when we're writing a six year old in a picture book. An eleven year old in a middle grade work. Or a fifteen, sixteen, or seventeen year old in a Young Adult novel. We can write all those ages because we've been all those ages, and art and craft and inspiration fill in the rest.
For adult readers, there's something truly exciting about being able to go back inside ourselves to those same ages through reading, and nourish (and sometimes heal) our inner child. Our inner teen.
When I was growing up, I knew I was attracted to other guys, but I didn't even know the word for it. When I learned the word (and a bunch of other not-so-nice versions of it) there wasn't even a single book that showed me a positive, happy gay teen character. The only "gay" characters were adult pedophiles and predators (like Baron Harkonnen in Frank Herbert's otherwise brilliant "Dune") and that wasn't helping me claim my authentic identity. So I read between the lines. Voraciously. I even figured out a loophole in the mating ritual of the dragons and dragonriders of Pern, and felt maybe there was a place for gay me in the fantasies of Anne McCaffrey. But it was never stated on the page.
Which left me feeling that if there wasn't a place for me in the world of fantasy and fiction, how could there be a place for me – as a gay guy – in our real world?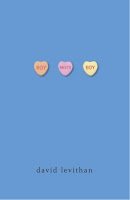 It was a cold lesson. And it kept me closeted for years.
But as I grew to be an adult and came out as a proud gay man, that lack of representation in teen fiction made me determined to become a writer myself, and write the damn stories I had yearned to read.
In time, the world and children's publishing started to change, and in the last decade, there's been an explosion of books for teens with gay characters. Lesbian characters, too. There are even a handful of bisexual and transgender titles. There are books with gay parents and uncles and caretakers, and even picture books with two dad and two mom families.
"Annie On My Mind" by Nancy Garden – the first teen lesbian love story with a happy ending – made me cry when I read it in my 40s, because even though they were so different from me, at their core, the humanity of Liza and Annie spoke to me so deeply. "Boy Meets Boy" by David Levithan and "Freak Show" by James St. James and "The God Box" by Alex Sanchez and "Absolutely Positively Not" by David LaRochelle rocked my world with great gay teen characters and hopeful and even happy endings. There were so many GLBTQ teen titles that I started a blog to list them all and let teens and other readers review them in a safe space. ("I'm Here. I'm Queer. What the Hell do I Read?" at
www.leewind.org
)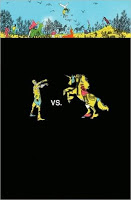 Every GLBTQ Teen book I read – most recently "Zombies Vs. Unicorns" – an anthology that included three stories with queer main characters, rocks my world. And I think, wow, just one of these books would have changed my life. If I could have seen a gay "me" in fiction when I was a teen, I would have known that there IS a place for gay me in reality – and that's a lesson I hope EVERY teen, no matter who they are, understands today.
And for us adults, we can time travel back to our inner fifteen year old, and say, I have something you have to read. And it's gonna rock your world. And in nourishing and healing our inner teen, we nourish and heal our adult selves as well.
So read YA for your inner teen – and let it rock your world!
***
Where to find great GLBTQ Teen Books:
Every year since 2008 the American Library Association's Gay, Lesbian, Bisexual, and Transgendered Round Table and the Social Responsibilities Round Table puts out the "Rainbow List" of the best books for kids and teens with GLBTQ characters and themes published. Check out their lists here:
http://glbtrt.ala.org/rainbowbooks/rainbow-books-lists
And of course, my blog lists of over 450 books in these categories:
Gay Teen characters/Themes,
Lesbian Teen characters/Themes,
Bisexual Teen Characters/Themes,
Transgender Teen Characters/Themes,
Questioning Teen Characters/Themes,
Books with Queer (Gender Non-Conforming) Teen Characters/Themes,
Books with an ensemble that includes GLBTQ Teen Characters,
Books with a GLBTQ Parent/Caretaker,
Books on Friends and Family of GLBTQ Characters,
Books with Homophobia as a Theme,
GLBTQ YA Graphic Novels and Comics,
Easy Reader/Chapter books with GLBTQ (and Gender Non Conforming) Content,
Picturebooks I wish had been read to me when I was a little kid,
Books with surprise gay (GLBTQ) content,
Cross Over Adults Books of GLBTQ Teen interest,
The GLBTQ Middle Grade Bookshelf,
The Gay Fantasy Bookshelf,
The GLBTQ Teen Short Story Bookshelf,
GLBTQ Teen nonfiction, and
GLBTQ Biography and Memoir.