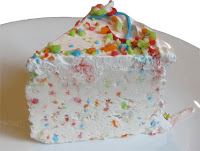 Thanks to everyone who joined us in celebrating our three year blogging anniversary (and for entering our contests — that was our biggest turn out to date!).
Congrats to Sophie, who won a copy of Pete Hautman's Obsidian Blade and Alexandra O., who won a pre-order of Courtney Summers's This is Not a Test.
Don't forget, we've got a giveaway of Blythe Woolston's Catch & Release and audiobook version of The Freak Observer running through the end of the month.
Here's to at least another three years of blogging!