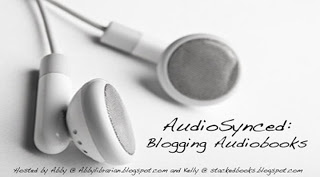 Welcome to another edition of AudioSynced, hosted by us here at STACKED and Abby over at Abby (the) Librarian. This monthly roundup features reviews and other links to all things audiobook. If you've posted any reviews in the last month or have other audiobook related links from April, drop them in the comments!
Reviews & Recommendations
Michelle at Never Gonna Grow Up reviews Gayle Forman's If I Stay.
Adam at Hitting on Girls in Bookstores offers a review of Julie Cross's Tempest.
News & Other Links


Fan of Shakespeare? The BBC is making podcasts of their Shakespeare Unlocked series available for download.
This feels a little like a cop-out, but Becky over at RA for All has amassed a ton of interesting audiobook related links. Rather than share them all with you, I'll let you go over to her blog and check them out.
I hope you all know about Sync, the audiobook community for YA Lit. I've been paying attention to them for the last couple of summers because they offer up — for free — two audiobook downloads each week. One of them is a newer YA title and one is always a classic. Bookmark this site because they've listed this year's titles, and they look fabulous.
The Audio Publishers Association has their finalists for Audiobook of the Year up. I love that Samuel L Jackson's rendition of Go the Eff to Sleep is among them.