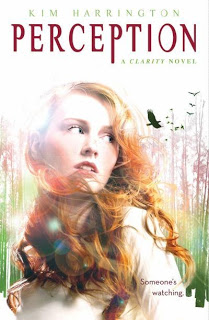 Kim Harrington's
Clarity
was a surprise hit for me last year, so
Perception
, the follow-up novel featuring psychic sleuth Clare Fern, was a guaranteed read. While I definitely enjoyed it, it didn't live up to my expectations.
One of Clare's classmates has gone missing. The girl's mother visits Clare's family for a psychic reading, but they aren't able to tell her much. Clare, however, buoyed by her success with the events in the first book, decides that she wants to help solve the case. Meanwhile, Clare has been receiving notes from a secret admirer. While the notes are flattering at first, they start to grow more sinister. Is there a connection? And does it have anything to do with the messages Clare's brother, Perry, has been getting from beyond the grave from a girl who has been dead for years?
The mystery is fine, although the clues are frequently obvious and inserted into the story somewhat clumsily. In one scene, Clare learns that she should try searching for alternate spellings of a possible murder victim's name to get more information on her after noticing that a friend's name is spelled strangely. It's not very smoothly done, but I may be biased since something like that is Librarianship 101.
What I really wanted out of Perception was a greater focus on Clare's interesting family history, some of which was hinted at in Clarity. Mystery series are perfect for giving the reader a self-contained mystery in one volume and slowly building a longer mystery arc over several volumes, but that longer arc was virtually nonexistent here. It's a shame, since the details dropped in Clarity were fascinating and a surefire hook to keep readers interested in sequels.
Perception also focused way too much attention on Clare's love triangle, which I found tedious and supremely uninteresting. Clare's got a legitimate choice to make about the two boys who want to date her, but it's too large of a plot point. I wanted more sleuthing and less mooning. I admit this is a personal preference and some readers may be very invested in Clare's decision, but I was tempted to skim during those parts.
Lastly, Clare seems to have lost some of her snark that made her character such a treat to read about in Clarity. I remember laughing out loud several times during the first volume, but it didn't happen much in the second. Her voice isn't completely changed, but it's not as amusing.
All that said, Perception is still enjoyable. There aren't many YA novels that are so completely, straightforwardly mysteries. (By that I mean, many books have mystery elements, but they're often simply a part of the story rather than the whole point of the story.) Mystery is one of my first literary loves and I cherish the chance to re-visit it in YA when I can. Perception is a solid entry and I look forward to the next books.