Unlike Kelly, who must be an incredibly fortunate person (!), I hated high school. I wasn't picked on or otherwise treated horrendously by teachers or classmates, but my self-esteem was in the gutter and life was just so, so awkward. I was painfully shy and didn't know how to grow up in the ways that I saw my peers doing: dating, addressing adults with confidence, and even just simply knowing how to look and act put together. (Your tiny violin is playing for me right now, I'm sure.)
Considering all this, it's not surprising that fantasy was my go-to genre in high school, and it remains that way now. I wanted to read about anything but what I was experiencing: constant embarrassment, extremely low self-confidence, and just a feeling of not knowing anything useful about life. Above all, I wanted to read about young women who had power or somehow gained power during the story, since I felt so completely powerless in my own life. I read about girls who could do magic, who became warriors or knights, who were smarter or prettier than everyone else and used it to get what they wanted. Even girls who began the story trapped in some way went through some sort
of transformation where they gained both outer and inner power. I still feel that the fantasy genre provides this in spades, and it's still something I need.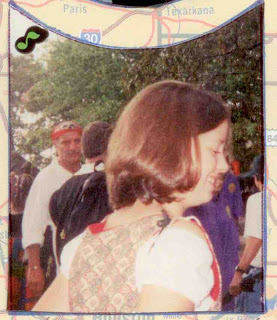 A few friends of mine and I went to the Texas Renaissance Festival at least three years running. This photo may actually be from middle school. We made our own dresses, which got better each year. I must have had a lot of help, because I was not a good seamstress then and I am not one now.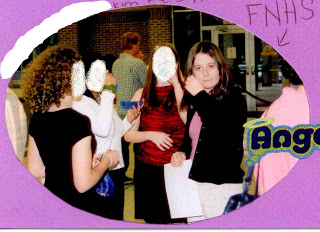 Induction into the French National Honor Society (I'm the one without the whited-out face, in case you were wondering). The girl in the red is still one of my very good friends. I went to her wedding and the curly-haired friend's wedding a couple years ago (separate weddings…). French was by far my favorite subject in high school – I was reasonably good at it, my friends were in the class with me, and the teacher was wonderful. She would let us eat lunch in her classroom AND nap in there using her huge blankets before school started. She also listened to me gripe about my parents, which endeared her even more to me. After we took the French AP test, she held a dinner at her home, where we built a huge bonfire and threw all of our old French papers (and papers from other classes) onto it to watch them burn. There are so many awesome things about her. She was at my friend in the red shirt's wedding and I still keep in touch with her on Facebook. She's one of my good memories.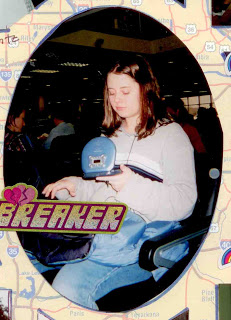 When I was 16, my French teacher took her classes on a Spring Break trip to Paris. This is me in the airport waiting to board the plane. I think everything in this photo is a sign of the times: the sweater, the zig zag part, and the portable CD player.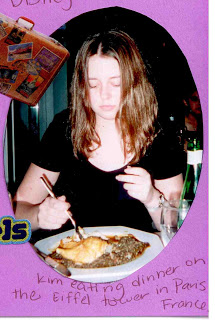 We had dinner in the Eiffel Tower. It was pretty terrific.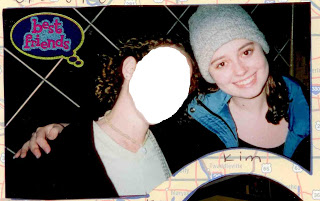 My friend and I in Paris. This is by far the best photo of me from high school, possibly because you can't see what I tried to do with my hair. I have very good memories of this particular friend, who is still one of the genuinely nicest people I know. She was the only person I really knew on the trip, and although she quickly made friends with everyone else, something I wasn't really capable of doing, she always made sure to include me. Another really great memory of her involves a little bit of misbehavior that she encouraged in me. If you know anything about standardized testing in Texas, you know it's a mess. I was in high school just as they were transitioning to a new test, but this test didn't actually count for my grade level. Instead, we were the guinea pigs, and our scores wouldn't go on our records, but they would help the test-makers make a better test (supposedly). She and I decided this was bogus, so we skipped one of the subject tests (science or social studies) and saw X-Men 2 instead with a couple of other people. I should have done things like that more often.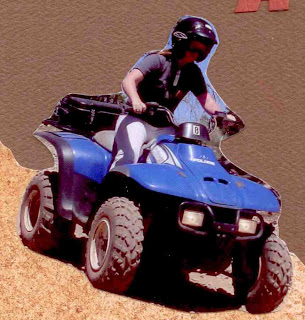 The summer before my senior year, I went on a trip with my dad and my sister out West. We visited Zion and the Grand Canyon, among other places. This is me riding an ATV for the very first time at the Grand Canyon. I was just a year older than the minimum age required to drive the vehicle on my own, so the instructor made me do a couple laps to prove I could handle it. My own memory tells me that he was very impressed with my ability. This was the best part of the trip; it made me feel like a badass, and we came back covered in dirt that didn't seem to ever go away.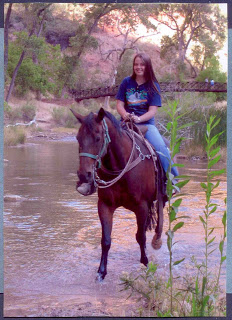 This is me riding a horse in Zion National Park. Also a very fun time. I felt surprisingly comfortable on the horse, even though I hadn't been one on very much previously. The flatiron was my friend on this day.
Looking back on all this about ten years later, I realize I shouldn't have been so hard on myself. Going through these old photos has made me understand that I was not nearly as hideous as I thought I was, nor was I as friendless or alone. That doesn't change the fact that I felt that way, though, and the books I read during that time still resonate. Most of my favorites today came from this period in my life.
Cynthia Voigt's
Kingdom
series was a huge influence on my reading life. I actually read the second book,
On Fortune's Wheel
, first, and I instantly fell in love. There's no magic, but there is a young girl in a made-up land who escapes from a life where she feels trapped to explore the world. I loved how atmospheric Voigt's writing seemed to me at the time, and I especially loved the surprising but deeply satisfying ending. Once I learned that there were others in the series, I quickly read them too. The series is a bit different from most written today in that the books are only loosely connected to each other. Usually, the "sequel" takes place several generations later and previous protagonists are only mentioned briefly. With their (mostly) Vermeer covers, they all seemed intensely romantic to me. I re-read
On Fortune's Wheel
every once in a while and still love it.
As a younger teen, I also ate up all of Donna Jo Napoli's fairy tale re-tellings.
Zel
in particular was a favorite, but I also enjoyed
Sirena
and
Spinners
. Aside from fantasy, I loved historical fiction, and Ann Rinaldi was my go-to author there. I've already bored you to tears with my fixation on Philip Pullman's
His Dark Materials
, so I won't do anything other than mention it here.
Biting the Sun
also bears mentioning as an example of a novel featuring a young woman who has both incredible power but who still felt very powerless – and what she does to fix it.
I will be forever grateful to my red-shirted friend for introducing me to Tamora Pierce. While my friend loved the
Song of the Lioness
books most, I was more drawn to the
Immortals
series. That preference is unusual, since I disliked animals and the books are about a girl who can speak to and influence animals. I think I liked them more simply because the girl had brown hair and that just made it easier for me to see myself in her. I also loved the romance, which was a bit spicier than anything I had read previously. I think I read both
Immortals
and the
Kingdom
books first in middle school, but I kept coming back to them throughout high school.
That same friend introduced me to Anne Bishop's
Black Jewels
series in high school. These books were a revelation when I first read them. They were sexy and violent in a strange kind of way, which very much appealed to me. They seemed so fresh to me at the time, like I hadn't read anything like it before. The magic system was completely unique and fairly complex, and the characters were so fascinating – equally light and dark, good and bad.
I ate up the mass market fantasy as a teen, something I've gotten away from a bit as an adult. Favorites included
Anne McCaffrey
,
George R. R. Martin
,
J. V. Jone
s,
Juliet Marillier
,
Jennifer Fallon
,
Holly Lisle
,
James Clemens
,
Sara Douglass
,
Melanie Rawn
, and
Elizabeth Haydon
. And then there was
Marion Zimmer Bradley
: everything except Darkover, which I never could get into. I never did read Goodkind, Jordan, Brooks, or Eddings. One of my favorite things to do was to visit the used book store and pick out a full trilogy (or quartet or quintet…) of books and dive in when I got home. The quality was erratic but I found some gems that way.
Reading for English class was always a chore, since the books I really wanted to read usually weren't in the curriculum. That changed slightly my senior year when the teacher gave us a list of books to choose from. You wouldn't find any of the above titles on the list, of course, but I read
The Handmaid's Tale
and
The Color Purple
that year, and I loved them both.
Like Kelly, I was always writing as a teen. I was good at English and spent a few years on Yearbook staff, which actually turned out to be a huge mistake, since it necessitated me talking to people, something I avoided at all costs. I wrote much more just for myself. I wrote what I liked to read and most of it was pretty derivative, but I kept it all and go through it every now and then when I want to torture myself. I never shared it with anyone, a habit I keep. I'm trying to change that, but it's hard!