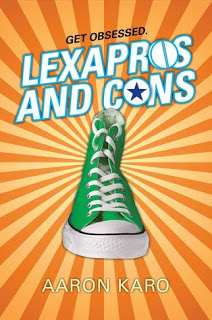 Chuck Taylor (yes, the same name as those iconic Converse shoes) has Obsessive-Compulsive Disorder. And not just the way people joke about, when they're a bit obsessed with cleanliness. He has "count how many times he masturbates, obsessively check the stove burners lest his house burn down overnight, make sure he doesn't get any dirt or grime anywhere on him, pee a bazillion times before bed" OCD, the kind his parents are now trying to make him see a therapist for. But even though Chuck understands why he should get better, the promise of a life without OCD is not enough to overcome the anxiety he would feel without it. That is, until a fight with his neglected best friend Steve and an intense crush on Amy, a new girl in school, propels him forward to try to change his life.
Lexapros and Cons is the debut YA novel from comedian Aaron Karo, and it is truly a hilarious read, despite its serious subject of mental illness. Chuck is a realistic character, whose life and anxieties will ring true to many readers: he's not the most popular kid in school and has always felt left out (although he's not quite as bad off as Steve, who is the target of intense bullying). His younger sister Beth is already much more popular than he'll ever be. And he's never had a girlfriend–not even a kiss, even though he's a senior–and this new crush is completely freaking him out. But it's Chuck's not-so-normal anxieties that truly make him shine as a character, along with the way he finally chooses to confront them. While these OCD actions of Chuck may seem odd on the surface, Aaron Karo handles them in such a sensitive, knowing way that Chuck's fears make perfect sense. He makes the obstacles that Chuck overcomes seem so realistic and insurmountable that we are that much more impressed with Chuck's strength as he moves forward in life.
The supporting characters shine, too, especially Amy, who is at first clueless about Chuck's disorder and then comes in and out of his life in a circuitous route. It's always refreshing to see girls fall for the "nerdy guy" in books, as this DOES actually happen in real life. Not every teen develops a crush on the star quarterback or the hottest guy in school.
While Lexapros and Cons may benefit from some judicious readers' advisory (the masturbation references and slight profanity may make it better suited for the slightly older YA crowd), this is a great book for your reluctant readers. The short chapters and easy tone draw the reader in immediately. I'd pair it with Jesse Andrews' Me and Earl and the Dying Girl for a one-two boy-friendly punch.
Aaron Karo will be stopping by Stacked tomorrow as part of his blog tour, as well. Come back and check it out!