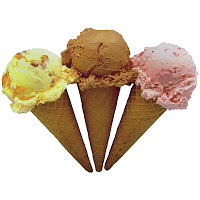 Three ice cream cones to celebrate our three year anniversary (that's one for each of us). It's hard to believe what started out in as a little idea has turned into such a huge thing. I think I speak for Kimberly and Jen when I say that blogging has changed our lives in a very, very good way. We've not only been able to talk about the books we're reading, but we've also met incredible people, made great friends, learned about the book world, and maybe most importantly, we've had fun. I know I look forward to doing this.
To celebrate three years we're going to share our tips, tricks, and lessons learned from three years doing this. But maybe more fun, since we DO blog so much about YA fiction and the teen world, we're going to give you a glimpse into our high school selves. You'll not only get to see what we were into and what we looked like, but we'll share what we were reading back in the day.
And of course, no anniversary would be complete without a giveaway as a way to thank everyone who takes the time to read what we write, but those who comment, who share, and who continue to motivate us in doing this. You help make this fun.
Naturally, we picked a pair of our favorite reads so far this year. Two books we're more than thrilled to talk up and down as stand outs. We're giving away a pre-order of Courtney Summers's This is Not a Test (teaser-reviewed here) and Pete Hautman's The Obsidian Blade (reviewed here). Two books, two potential winners, but you're welcome to enter for both. The books will be purchased and sent via The Book Depository, so it's open to anyone who can receive books from there. Winners will be picked May 8.
We hope you enjoy what we have to share the next few days and thank you so much for making this little blogging thing so much more than just a little blogging thing.