We're thrilled to welcome Aaron Karo to the blog today for a stop on the Lexapros and Cons blog tour! This hilarious book was released this past Tuesday, April 10th, and here Aaron talks a bit about his inspiration behind the book, his writing and research process, and…why YA?
1. Your previous work has been in comedy and writing humor for adults. Why did you decide to write YA and how was that transition?
My three previous books were also nonfiction. I really wanted to move into fiction. But the market for male-focused adult fiction is pretty limited. I realized there was an entire world of YA that I had yet to explore and that was hungry for an awesome dude book. So the short answer is: money.
2. What kind of research did you do to portray a teen struggling with Obsessive-Compulsive Disorder?
Well, Chuck Taylor is basically me. All of the OCD symptoms in the book I have suffered from at some point. I actually counted how often I masturbated for an entire year (luckily that was in ninth grade and I don't do it anymore!). All of the stove checking and the obsession with hand sanitizer – those are all things I do now. So writing about OCD was very personal and really required introspection rather than research.
3. Your book seamlessly melds a quite serious disorder with hilarious, often raunchy details. Did you find it hard to achieve this balance?
I think that just comes from being a stand-up comedian. A lot of the topics I talk about onstage could be considered serious, but you still gotta make the crowd laugh. I actually don't think the book is that raunchy. Sure Chuck drops the F-bomb a lot, but that's just how kids talk. Though maybe my view of "raunchy" is quite different than the typical YA reader!
4. Speaking of comedy, what are a few of your favorite funny books and/or movies?
I love David Sedaris. He is one of the few authors who really makes me laugh out. Movie-wise, I like all the classics: Major League, Anchorman, Zoolander, etc. There was a time not too long ago when I watched Zoolander every week for a year. I needed to get out more.
5. Do you have a specific writing routine? Anything you NEED to be productive?
I'm a big outliner. I outlined the entire story in Excel first, one sentence for each of the 60 chapters. When I'm actually writing, I need total silence and large blocks of time. Like I can't sit down for 20 minutes and bang out a paragraph, I need like 6-8 hour stretches where I really get immersed. I can't have any music playing or anyone around. I am very easily distracted. Once I get in a groove though, I can write FAST. Not counting outlining, I wrote Lexapros in a month (and then spent a year editing it). I just cranked it out. Generally speaking though, I can only crank if I really feel inspired. Chuck was a very inspiring character to write though. It flowed.
6. How did you come up with the protagonist's name, Chuck Taylor?
The main character was always going to have OCD and the book was always called Lexapros and Cons. It wasn't until halfway through brainstorming the story that I realized that Cons could not only be "negatives," as in "pros and cons," but also Cons as in Converse. And then I thought it'd be interesting if one of the things the main characters was OCD about was Converse. And then I just needed a reason why he would be obsessed with that particular brand. And then the light bulb hit – his name should be Chuck Taylor!
7. Who are some of your writing inspirations and why?
In my writing, as with my stand-up, I wouldn't say I am inspired by anyone in particular. When I first started doing stand-up, I consciously avoided studying other, famous stand-ups because I didn't want to copy anyone's style. I took the same approach when I started writing YA. I didn't study the genre too thoroughly; I honestly just pen to paper (or fingers to keyboard) and started writing. I figured I would inspire myself…and luckily it worked!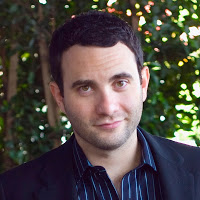 Thanks to Aaron for a great interview! Find him on Twitter at @aaronkaro and find out more about the book at Lexaprosandcons.com. Thank you, also to Farrar, Straus, and Giroux for offering a copy of Lexapros and Cons for a giveaway!
To enter, please fill out the form below. One entry per person, US addresses only. You must be at least 13 years old to enter. Entries will be accepted through Sunday, April 22 and I'll draw one winner on Monday, April 23rd. I will share the winner's information with the publisher who will send the book. Your information will be deleted after the contest is over.