As a teen librarian, I tend to get asked about YA literature a lot, whether by friends my own age looking to expand beyond Twilight and The Hunger Games, by younger cousins in high school and curious about the newest releases on the shelves, or by patrons I encounter daily at work. But its not just as simple as handing them the latest New York Times bestseller. Every patron and every individual has different tastes and may be in the mood for a different book depending on circumstances or interests. That's the beauty of my job and why I love reading, recommending, and blogging. When I think of the best YA fiction out there (and I'm not necessarily talking about award-winners either, although some of my choices are adorned with nice shiny medals), I can see a few different categories forming:
World-Building: In these books, the author creates a new world with words. The world can be full of lush descriptions and vivid settings, as in high fantasy or fairy tale retellings. Or it can just be our world, with a few tweaks and adjustments here and there.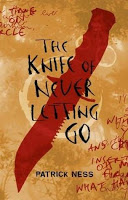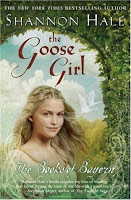 Chaos Walking Trilogy by Patrick Ness: In Todd Hewitt's world, "Noise" has led men to hear everything that others think, and females are nonexistent. But when Todd stumbles upon that most foreign of creatures, a girl, when he flees his village for his life, he discovers a nefarious plot underfoot, spearheaded by one of the most evil, intriguing, and multi-layered villains in literature, Mayor Prentiss. In addition to Ness' unique textual depiction of "Noise," the details of the world of Chaos Walking (The Knife of Never Letting Go, The Ask and the Answer, Monsters of Men) are well-developed and the plot is a nonstop chase scene.
The Goose Girl
by Shannon Hale: Hale's writing is lush and gorgeous, filled with stunning, vivid descriptions. The dual kingdoms of Kildenree and Bayern become vivid, real places under her pen, and the simplest descriptions of forest trees or flowers bloom to life. She expands the simple fairy tale of the goose girl in this first book of
The Books of Bayern
series and in the process creates a strong, capable heroine in Isi.
Heart: Some books leave you with more than just a warm fuzzy feeling. Some books truly work their way into your heart, with endearing characters who stand the test of time and live on in your mind, becoming real people, not just words on a page.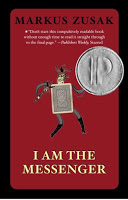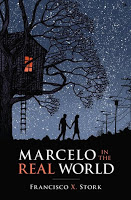 I Am
the Messenger
by Markus Zuzak: Ed Kennedy is sent a playing card, an ace, with three addresses are scribbled on that playing card. Soon, Ed discovers that he has been called upon for a mission, expected to make a difference in the lives of the people at these addresses, to get to know them and find out how he can better their lives, whether in small or big ways. From the Ace of Diamonds through the Ace of Hearts, Ed travels throughout his run-down town, deciphering the code of the playing cards and finding out more about both himself and the people around him. While most people are more familiar with Zuzak's
The Book Thief
,
I Am the Messenger
worked its way into my heart, with its depiction of Ed's working class life, the vivid details of the people he helps along the way, and the friends who orbit around him.
Marcelo in the Real World by Francisco X. Stork. Marcelo Sandoval is somewhere on the autism spectrum, and loves his school, where he will soon be entrusted with taking care of the ponies in the stable. But when his father orders that Marcelo work in the mailroom of his law firm for the summer, Marcelo's orderly world is upended. Meetings with Jasmine, a kindhearted coworker, and Wendel, a self-centered boy his age, show him the spectrum of "real world" behavior, and a mystery surrounding a picture found in a file soon brings him out of his shell more than he was anticipating. Filled with achingly real characters, issues of faith, identity, and growth, Marcelo touched my heart more than any other book in recent years.
Originality of plot: These books are complex, original, and compelling, remarkable for the author's imagination, twists and turns of plot, and an utterly unique vision.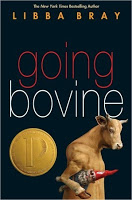 Going Bovine by Libba Bray: 16-year-old Cameron has just been told that he has mad cow disease. That's heavy enough news. But then add the facts that he keeps hallucinating an angel, a garden gnome has come to life, and his new companion is a dwarf–well,you have to question Cameron's sanity. But in the hands of Libba Bray, every step of his madcap roadtrip to find Dr. X, a physicist who may be able to save his life, seems like it makes perfect sense.
Plain Fun: That quick, endearing read that charms you to no end.
Anna and the French Kiss
by Stephanie Perkins: When Anna transfers to a French boarding school for her senior year of high school, her anxiety and homesickness soon disappear when she meets a group of friends, including the wonderful Etienne St. Clair. There's just one problem–he's taken. However, as Anna slowly gets to know Etienne and the two help each other through respective crises, their friendship slowly flirts with romance and the two circle ever nearer to each other. Stephanie Perkins' writing is sparkling and witty, and the characters are charming and realistic. An endearing romance that just leaves you with the warm fuzzies.
My Most Excellent Year by Steve Kluger. In three alternating narratives, the reader meets Tony Conigliaro (T.C.), a die-hard Red Sox fan who is crushing hard on the hard-to-get Ale; Ale, an ambassador's daughter whose real passion is the stage; and Augie, a recently out of the closet musical theater fanatic who is developing his first crush on a boy. The three come together when they stage a school variety show and become involved in the life of a young deaf boy. Full of quirky, charming characters, this book stole my heart.