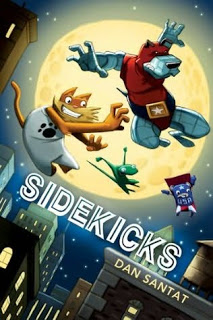 I normally stay away from stories about animals. Even as a kid, they never really did anything for me. BUT. Dan Santat's comic about pets as superhero sidekicks had been calling out to me for a while, mostly because of the artwork, and it's definitely a worthwhile read.
Captain Amazing, superhero extraordinaire, has been getting older, and he's decided it's time for him to get a sidekick. His pets – Fluffy the hamster, Roscoe the dog, and Shifty the chameleon – are all eager for the job, but Captain Amazing (Harry to his pets) is completely oblivious to this. He's also oblivious to the fact that his pets have already begun to develop superpowers – powers that will come in handy when Harry gets into a spot of trouble himself with his old nemesis Dr. Havoc.
In many ways, this is a fairly standard superhero story. The pets are the underdogs who must move past their bickering and learn to work together to save Captain Amazing. Will they emerge victorious? If you're at all in doubt, you haven't read a single graphic novel in your life.
But Santat makes the book unique enough in other ways to keep it enjoyable. For starters, it's funny, and most of its funny moments come from the art (in glorious, bold full colors). Santat gets a lot of mileage out of Fluffy's buck teeth and bulging eyes (often mismatched in size for greatest impact) and Shifty's changing skin. Facial expressions are frequently hysterical, particularly when a gust of wind (or a sneeze) blows past the animals. Plus, the pets are just plain adorable, and I am a sucker for adorable. The book also benefits from Santat's ability to create distinctions between the pets in personality as well as appearance. Naturally, this makes the story more engaging, even if the reader is never in doubt of its ending. And he includes a couple nice side stories and a clever bit at the end that make the book just that much better.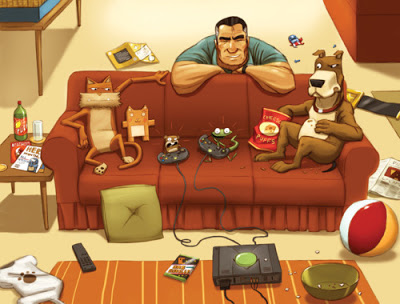 Fluffy is my favorite. Isn't he adorable?
Sidekicks
is solid middle grade entertainment, and it seems like it would have wide appeal to that age group. It feels a little bit like the Incredibles with pets instead of kids, and the outcome is the same. It's got a heartwarming, but not heavy-handed, message about making sure to spend time with the ones you love – not a bad takeaway at all.