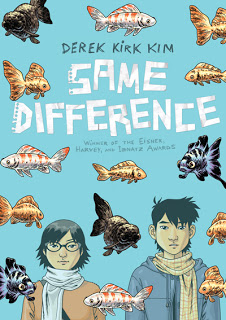 I've resisted picking up Derek Kirk Kim's
Same Difference
for a while for what might be a silly reason: the illustrations are in
black and white. Ever since I started reading graphic novels, I've been
more than a little prejudiced against black and white art, no matter how
good that art may be. But I've pretty much read through my entire
library's small collection of full color graphic novels whose stories
seemed remotely interesting to me, so it was time to buckle down and
move on.
There's no better place to start than
Same Difference
,
a much-lauded book featuring characters in their twenties, which First
Second re-released in a "deluxe edition" in 2011. By much-lauded, I mean
that it garnered Kim three major comics awards when it was first
published in 2003: the Eisner, the Harvey, and the Ignatz award for new
talent. Pretty impressive, yes? Plus, I really dug Kim's illustrations
in
The Eternal Smile
, so I hoped I would like them equally in black and white.
I needn't have worried – Same Difference
deserves the accolades. By saying that, I realize this review won't add
much of anything new, since the world has had almost ten years to
figure this out on its own, but for the two of you who hadn't heard of
this book until now, this is for you.
Simon
and Nancy are two friends going through a quarter-life crisis. They're
in their mid-twenties, a bit directionless, past high school but not
quite settled into adulthood yet. They're eating lunch together when
Simon gets a blast from his past: he sees Irene, a former high school
friend of his, waiting at a bus stop. Rather than go and talk to her, he
instead recounts to Nancy the story of their friendship, a story that
still makes Simon feel deeply ashamed of his actions.
Later, the two are at Nancy's
apartment and Nancy admits to Simon that she's been receiving letters in
the mail addressed to a former tenant from a lovesick man named Ben –
and she's been writing back, pretending to be Ben's object of affection.
Ben lives in Pacifica, which just happens to be Simon's hometown, and
the two decide to go to Pacifica, hoping to get a glimpse of the man
Nancy's been stringing along. Not only is Ben not what they expected,
Simon also runs into Irene – and he can't avoid speaking to her this
time.
The best thing about Same Difference
is the way it manages to be both funny and poignant at the same time. I
laughed out loud at so many moments. At one point, after high school
Simon realizes what a giant…jerk…he's been, he's depicted as just
that in the panel. There might not be anything funnier than a picture of
a giant sad-faced…jerk. (Three guesses: What do you think my favorite
part of Superbad was?) And Simon and Nancy are great wise-crackers, constantly ribbing each other like good friends do.
Often, the humor is a lead-in for something a bit deeper: reflections on
life, past experiences that haunt us, and mistakes we continue to make
into adulthood. It's never heavy-handed, though, and it's done in only
80 pages with black and white artwork that perfectly captures both the
humor and the poignancy.
The
only thing I wish First Second had done differently with the re-release
is to include the "Other Stories" that were published alongside the
original story.