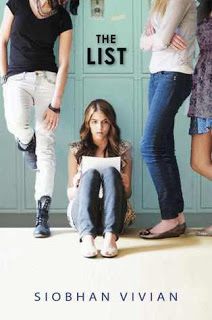 The Monday of Homecoming week at Mount Washington High School is when the annual list shows up. It's written anonymously and has on it the names of two girls from each grade: one who is the prettiest and one who is the ugliest. For all eight girls, being put on the list changes their status at school, despite the fact none of them choose to be included. Suddenly, they're all in the spotlight.
Siobhan Vivian's The List is a story about the eight girls on this year's list and what being put on that list does to them.
There are eight voices in this book and each of them is unique and fully developed. It's in third person present tense, and it works — rather than being inside the heads of each of these girls first hand, we're getting more objective understandings of each because we're removed from them. Vivian excels in writing tight prose that elevates and rounds out the characters, but she does so without forcing the reader to believe one thing or another about them through the story; they're dynamic.
When readers are dropped in the story, the characters are just learning they've been put on the list. That means the first interactions we have with the characters are emotional ones: Abby, prettiest freshman, is pleased to find herself on the list but immediately worries how her older sister Fern will react; Danielle, ugliest freshman, has just reunited with her football playing boyfriend Andrew after a summer apart and now being called out as not only the ugliest girl but as "Dan the Man" has her worried how much longer he'll hang around; sophomore ugliest Candace is trying to make sense of going from being one of the prettiest to becoming one of the ugliest in just a year and keep her friends in line with their elaborate Homecoming plans; Lauren, the prettiest sophomore, is adjusting to being at a normal high school after spending her life as a homeschooler; Sarah, the ugliest junior, doesn't care she's made the list because appearances aren't her thing at all; prettiest junior Bridget went through a dramatic physical transformation over the last summer due to a worsening eating disorder; senior ugliest, Jennifer, has made a school record in being the only girl to appear on the list four years running, though it's not necessarily a badge of honor; and finally, Margo, prettiest senior, takes this as a sign she'll follow in her sister's footsteps and become Homecoming Queen but she's quickly approached by the principal, as he's suspicious that she knows the truth behind the list. He wants answers and he trusts her to deliver them.
As the week progresses, we learn these girls are a lot more complex than their labels suggest. I found myself invested in some girls more than others. I don't find that to be the fault of the writing, but rather, the fact that some characters spoke to me more than others. In particular, I thought Sarah's story was extremely compelling — she's okay with being the ugly girl. More than okay, in fact, as she owns it and displays it. She chooses to go without showering as sort of a sign that the person or people behind this list were right. Sarah is the loud representation of everything that's wrong with the list: she's proving the point she can become what people want to believe if they go by appearance alone. Deep down, she's a hurting girl and she's complex, but that's not what the people around her way to know her as. They only care that she's unattractive. Her owning it is as much of a middle finger to the people around her as it is a defense mechanism for the pain she's carrying.
On the opposite end, I also found myself quite invested in Bridget's story, too. She's gained her notoriety as the pretty girl through her eating disorder. For her, being on the list is almost confirmation of the way she's treated herself, and it's also almost motivating, since she doesn't find herself stopping the behavior, either. Whereas the "fame" gives Sarah a way to rebel, it gives Bridget a sense of purpose. The other character I found myself drawn to was Danielle — her relationship with her boyfriend hurt to watch. Not because he didn't treat her well, but because he becomes pressured by his teammates to reconsider his involvement with the girl deemed ugliest in the school. The list had power to not only impact the girls who made it, one way or another, but it impacted those who knew the girls, too.
The List explores the power of labeling, as well as the power of identifying with or rejecting them. Of course, the labeling is a small aspect of it, since the story is much more about appearance and the power beauty does or doesn't have in defining people. Vivian does a good job of keeping the story very much high school. There are big issues here, but it never comes across as inauthentic. Because this story takes place over the course of Homecoming, the big event plays into the story and grounds it. It's a time when emotions are already a little heightened, but the list only amplifies them. Also playing a role in the story is the fact the list is anonymous. There are plenty of ideas of who could be behind it, but there aren't many strong leads, except for the fact whoever creates and distributes the list has — or has access to — an official school seal, which is placed on each of the copies.
For me, this is Vivian's strongest book yet. It combines her ability to develop full characters with strong writing and an engaging premise. More than that, though, it not only tackles the complex issues of labeling and appearance well, but it also tackles a slew of other issues within each of the individuals without ever making them stereotypes nor flat, single-issue people. This book will appeal to fans of Vivian's other books, and it'll appeal to teen readers who like strong contemporary stories that are very much about high school life. While I don't dismiss the fact there will be male readers who can enjoy this story, I definitely see this having higher appeal to female readers, and in part, that's because the characters are relatable. I can see teen girls finding themselves in at least one, if not more, of these stories. This is the kind of book that's made for a book discussion because there is a lot to dig into and talk about. The List is also partially inspired and in the spirit of the classic Cormier title, The Chocolate War, which gives it even more to dig into.
Previously:
Review of Siobhan Vivian's Same Difference
Review of Siobhan Vivian's Not That Kind of Girl
Twitterview with Siobhan Vivian
Review copy received from the publisher. The List will be available April 1.