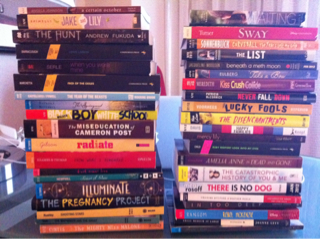 Before diving into the heavy stuff, a glimpse at the books I picked up at ALA. I used "picked up" loosely because I've become a big believer in talking with publicists at conventions. I love hearing what their favorites are and why (because it's not always the book getting the big publisher push and often it can lead you to a real gem). But yes — this pile is everything I picked up at Midwinter. It fit into my carry on luggage.
Over the last few conventions, I've posted the titles of books I've picked up, their release dates, and a link to GoodReads for more details. I'm not going to stray from that, but it'll wait a couple of days. I've been told by librarians, teachers, and readers how nice it is to know about what's coming out from the different publishers, so they have it on their radar. I like doing it because it helps keep me organized too.
Something that's come up is blogger behavior at industry conventions like ALA and BEA. In fact, I've talked about it before, been cited about it before. Whenever this conversation comes up, I have to take a step back. The anxiety gets overwhelming. There seems to be some sort of belief there are only black and whites and not shades of gray everywhere. That there are, say, bloggers and there are librarians.
I tread a fine, fine line. I'm a librarian and I'm a blogger. I do both and I love doing both. I don't think they're necessarily different identities nor ones I need to keep separate. And in fact, the more I have become involved in blogging, the more I see them as things that cannot be separated. Being a librarian has made me a better blogger because it's given me deep perspective on the idea of audience and readership. The more I've blogged, the better I've become as a librarian because I've forced myself to read well and read with the idea of audience.
These things just aren't separate for me.
When I go to a conference where there is an exhibit hall, where there will be publicists and opportunities to pick up ARCs, of course I go in with a wish list of some sort. There are books I'm excited about personally and I'd love to get a crack at. Books I'd love to read and fall in love with so I can talk about how much I love the book and why I love the book. Books that in my job as a librarian I'd love to bring back to my teens because they're excited to read them.
But I don't go into the exhibits with expectations of anything, either as a blogger nor as a librarian nor as a reader nor as a person who has red hair. It's an experience, and it's one best enjoyed by interacting, be it with publicists, colleagues, strangers. When I'm able to take home a book that is on my wish list, it's a plus. When I don't, it's not a minus. It just is! I'll still be able to purchase the book or borrow it from the library when it publishes a few months down the road.
I've never walked away from a convention thinking I didn't get enough. Because the thing is, I don't expect to get anything. Being a librarian and/or a blogger doesn't entitle me to anything. Being a librarian and/or a blogger, though, does come with a set of expectations. A set of standards.
But this is something I've talked about before.
No matter what your title is, no matter what your goal is in attending an industry convention, the only expectation there is is for classy, professional, courteous, kind behavior. It means being thoughtful and considerate. It means behaving in a way that would make whatever you're representing proud to call you a part of that organization (if it's your blog, then it's your blog; if it's your library, then it's your library; if you're there representing yourself, well then that's a pretty big role to make proud, too).
I'm not of the belief that we should close off cool experiences like ALA from non-industry members if it's not necessary. But I am of the belief that there should never be bullying, there should never be swarming, there should never be name calling or teasing or stealing or rule breaking. Treating one another with respect is the only expectation, and that goes for not only attendees, but for attendees toward publicists, publishers, the industry as a whole.
I like to think of the book world as a type of eco-system. We all grow and thrive when we allow one another to do so. This means feeding and keeping one another in check. It means being respectful and thoughtful every step of the way. When you're contributing the good, you get the good back. When you're not, you're only harming your environment.
Stepping back from this a second now, since I really cannot say anything more on that particular subject without sounding like a broken record, I thought I'd talk a little bit about what picking up ARCs means for me. Since I tread that slippery line of blogger and librarian, it means a couple of things.
As a blogger, I like to think my role in the ARC process is one of reading, blogging, and helping build buzz. I like to think, too, that by being a librarian, I reach a certain audience of readers who have a budget behind them — they actually purchase some of the books I talk about, either for themselves or their organization. And if they don't have the funds, I like to think I'm able to offer to readers books they can talk about with readers in their lives. Either way, my role as a blogger is spreading the word.
Did you know for a lot of teenagers, owning a book is something they will never get to do?
Did you know for a lot of teenagers, the ARC a librarian brings them from a conference may be the only book they actually, truly own?
This was something I never thought about, never knew, until I actually worked with teenagers. Until I had teenagers tell me they'd bring the book right back to me because they didn't want to lose something that belonged to me (an adult). Telling those kids they could keep that book illuminated something inside them. Disbelief. Shock.
Excitement.
I can't even tell you what it feels like to hand a teenager a book you picked up for them at a convention. It's what makes me LOVE being a librarian. Putting that book into their hands. Knowing it will change a life, even if it's in a small, small way.
Moreover, many of the ARCs end up as prizes for various programs at the library, including the summer reading club. Most libraries — especially smaller ones — don't have prize budgets. They don't have money to give teens books to keep. After working on the Cybils and attending a couple of conventions, I can amass a lot of ARCs (and finished copies). For what it's worth, I pay for shipping on everything I bring home from a convention. Sometimes upwards of $50, $100, often for books I'm not necessarily keen on myself but that I know will mean a lot to a reader at the library. No, I don't get reimbursed.
But I get to bring books to the library in stacks this tall to give away to teenagers. Books they'll get to peruse and pick from and keep. Books that will mean the world to them because it's something they get to own. I reiterate — for many of these teens, this is the only time they may actually get to own a book.
The other thing I do with ARCs as a librarian is this: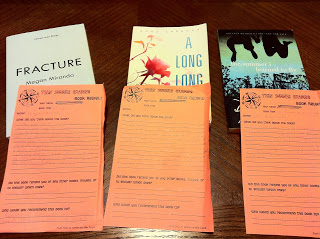 I cannot possibly read everything being published for teens, so I often go directly to the teens and ask them to write up book reviews for me. In exchange, they get to keep the book (if they want) or they can trade with another teen (which they often do). My teen above writes excellent reviews which I use to promote the books when they've been purchased, and they help me decide whether it's a book worth reading so I can book talk it. And often, I can book talk the book based on the teen's review alone. I get feedback on what the book reminded the teen of (I can't possibly know what all of their experiences are in their world and in their age, and this feedback is priceless to me as a librarian and, as you'd guess, a blogger, too!).
Let me say, I've never felt guilt about picking up an ARC I could put in the hands of a teen.
If you've ever wondered why we don't do a lot of giveaways here at STACKED, this is just one of the reasons. Most ARCs never stick around long enough to give away. I'd rather spend my own money to buy a finished copy of a book I read in ARC form for someone else (and that is why if you've entered and won a giveaway here, the book often comes straight from Amazon or Book Depository).
All of this is to say one thing and one thing only, really: let's be courteous, please. We are all part of the same eco-system, even if our end goals differ. Whether you're a blogger whose goal is to build your readership and build buzz around books or whether your goal as a librarian is to pick up books for your own reading/collection development planning/prizes. What you pick up, what you take, what you demand. You can pollute or you can recycle. Either way, it reflects back upon not just you, but the environment as a whole.
I like a world that keeps spinning.