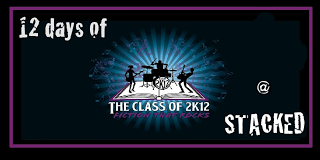 AC Gaughen is the author of the forthcoming Scarlet, to be published on Valentine's Day by Bloomsbury/Walker books. You can find her on her website, on Twitter, and on Facebook (her fanpage and her book's fanpage).
Pitch your book in 140 characters:
SCARLET is a YA version of Robin Hood, with a butt kicking girl where Will Scarlet once stood.
Who will this book appeal to?
Teen girls looking for a slightly tougher, grumpier heroine!
Favorite moment or character in your book:
A scene where Rob and Scar fight and end up confessing secrets. While wrestling.
What's your writing routine?
Go to Panera, plug in earphones, and block out the world. With refillable caffeine.
What's your best piece of writing advice?
Just keep going.
What's been the most surprising part of the publishing journey?
How awesome working with other people in publishing is!
What did you do when you learned your book would be published?
Bawled. And tried not to get into a car accident. While bawling.
What's the best piece of writing advice you've received?
"It will happen, because it has to happen," from Anthony Horowitz
What are your top three favorite books?
Don't make me pick favorite children, it's cruel.
What's next for you?
Currently working on a contemporary YA about art and graffiti in Boston. Totally different!