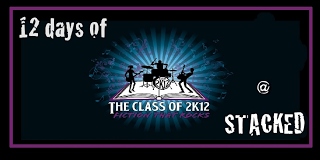 I'm so glad Sarvenez Tash (The Mapmaker and the Ghost, Bloomsbury/Walker, April 24) chose to write about her literary guest list, dinner menu, party games, and other activities for her guest post. I promise I don't say that only because she talks about the importance of glitter. Or handcuffs.
First of all, I LOVE throwing theme parties. My birthday is right before Halloween and for the past few years I've taken advantage of that and made my friends put those costume sales to double-use! I've thrown an 80s party, a 1920s murder mystery, a 90s prom, and a Beatles Rock Band party, to name just a few…
A literary party would be right up my alley. In fact, I may be getting an idea for next year [twirls imaginary mustache]…

Anyway. Guest list:
Elizabeth Bennet & Mr. Darcy (because the romantic banter would be killer)
Ron Weasley (for comic relief)
Hercule Poirot & Sherlock Holmes (I expect this dinner party to turn into a murder mystery and I would love to see these two butt heads over how to solve it)
Dolores Umbridge (well, if it's going to be a murder mystery, someone has to die, right?)
Turtle Wexler from The Westing Game (I bet she could even teach Poirot and Holmes a thing or two)
Harriet from Harriet the Spy (I'm guessing she and Turtle would get up to some precocious shenanigans)
Jamie Fraser from Outlander (just for the dreaminess factor: I had to do it!)
Willy Wonka from Charlie and the Chocolate Factor (who I imagine will add a healthy dose of insanity)
For dinner, I expect an elegant 4-course meal of roast pheasant, etc. such that Mr. Darcy is accustomed to. Dessert will likely be a preposterous 20-course affair such that Willy Wonka is accustomed to.
Obviously, the game that we'd play would be "Who Killed Dolores Umbridge?" I imagine this would take up much of the conversation as well (barring, of course, the romantic witty banter and comic relief).
As for parting gifts, someone is leaving in handcuffs! The rest, with the knowledge that justice has been served. Oh, okay, and something glittery. In my expert opinion, all parties are more successful with glitter.