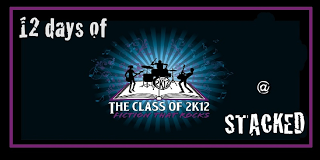 AC Gaughen, author of Scarlet (February 14, Bloomsbury/Walker), is talking today about her first literary party, including who would be invited, what would be on the menu, what the topics of conversation would be, and much more.
My guest list would be of the paramount importance. First, I would like to put Elinor Dashwood and Heathcliff together for dinner so that her sensibilities could be deeply offended and he could start shredding his napkin into furiously tiny pieces (in a wounded, endearing way, of course). Then I would put the young Alanna (Tortall series, Tamora Pierce) next to Katniss, so that they could argue over who is tougher and over all cooler. Then Katsa from Graceling would walk over and rock both of their socks off.
And who would be at my table? Well, I would take Magnus from the Mortal Instruments series, Clay from 13 Reasons Why, and Robin, John and Much from my own SCARLET. Is that not allowed? Because I would so like to hang out with all of those guys. Magnus likes to throw out all these sassy references from having lived for hundreds of years while still being fabulously gay, Clay is moody but sincere in a way that I would really like to get to know better, Robin is a huge grump with a total hero complex, John's a ladies man with a heart of gold and Much is just a total sweetheart. However, I cannot stress enough that I will be the only girl allowed at this table. It's my party, and I want some attention.
Let's keep it small; we'll cut the guest list off there. It's better if Howl and all the other characters who think they are just so special don't get invited this time so next time they'll be dying to come.
Now, this is some pretty good company, so obviously I'd be attempting to make myself look good. I'd make crab cakes for an appetizer, because I really do make a great crab cake and they reheat well, so I wouldn't be stressing about food instead of primping for the party. Priorities, people! Then I'd make my amazing slow cooker barbecue chicken for the same reason–it's easy, stays warming, and I don't have to fuss. Then I would buy cornbread from Tennessee BBQ but say that I made it myself.
And for dessert? I am a cupcake wizard, and I have recently perfected a peanut-butter filled chocolate cupcake with peanut butter frosting to go along with my Nutella filled vanilla and butter cream cupcake. By the time the dinner party rolls around, I will have learned to make an insane carrot cake cupcake, I assure you, and will serve this trifecta of deliciousness to my guests.
Then after that? WORLD DOMINATION.