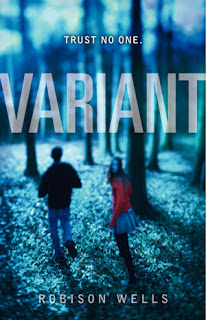 Benson has been accepted to Maxfield Academy, a prestigious school whose existence means he won't have to stick around in his dead-end life as a foster kid, jumping from one home to the next. But the minute he arrives at the school, he realizes something is wrong. For one thing, there aren't any adults around. The kids all teach themselves, receiving instructions via computer. They're sometimes instructed to complete pointless or cruel tasks, and there are terrible punishments for anyone who breaks rules.
Benson soon realizes that the school is a prison. Anyone who tries to leave is subject to punishment – and some of them just disappear. Benson – and a few allies (or are they allies?) – try to discover what the true purpose of the school is, because it's definitely not educating its students. They also begin working on a daring plan to escape.
Variant
has everything a good sci-fi thriller should: a quick pace, plenty of twists, a good narrative voice, and a few surprises. While I could predict a few of the events (anyone who's read any amount of science fiction will be able to), Wells still managed to throw me for a pretty big loop near the end, and an even bigger one in the final chapter.
Variant isn't earth-shaking or life-changing. Benson is well-drawn and most ancillary characters have some depth, but I wouldn't say there's much depth to the story as a whole. The writing is taut and propels the story forward, but it's never lovely or particularly clever. It doesn't try to be. Variant is a solid example of novel as entertainment. Like Harlan Coben's Shelter or Ally Carter's Heist Society, it succeeds because of its clever plot and quick pace.
I'd recommend Variant to readers who like thrillers. It will also have appeal to readers who like dystopias, although this book is NOT really a dystopia. The science fiction element is important, but it's light and not very complex, meaning people who only have a passing interest in sci fi would have no problem getting hooked. If you like your books page-turners that won't let you set them down until you finish, Variant is your match.