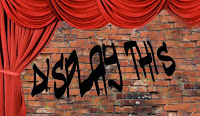 Next week is Teen Read Week, an annual celebration put together by the American Library Association which aims to celebrate teens reading. This year's theme is "Picture This," and focuses on the intersection of art and image with writing. To go along with that theme, here's an idea for a display — books that feature photography or characters who are photographers themselves. All images and descriptions are courtesy of WorldCat, and you are welcome to borrow this list and use it. If you have other books that fit the theme, drop a comment. For list purposes, I've limited myself to fiction titles.
Flash Burnout by L.K. Madigan: Telephoto lens. Zoom. In a shutter release millisecond, Blake's world turns upside down. The nameless woman with the snake tattoo is not just another assignment. 'That's my mom!' gasps Marissa. Saturated self-portrait: Blake, nice guy, class clown, always trying to get a laugh, not sure where to focus. Contrast. Shannon, Blake's GF. Total. Babe. Marissa, just a friend and fellow photographer. Shannon loves him; Marissa needs him. How is he supposed to frame them both in one shot?
All You Get is Me by Yvonne Prinz: Almost sixteen-year-old city-transplant Aurora must adapt to life on an organic farm as she navigates an eventful summer when she falls in love, discovers that her mother has left for good, and watches her father take a bold stand in defense of the rights of undocumented Mexican farm workers. Aurora takes photographs throughout the story, developing them in a broken down shed.
Fall For Anything by Courtney Summers: As she searches for clues that would explain the suicide of her successful photographer father, Eddie Reeves meets the strangely compelling Culler Evans who seems to know a great deal about her father and could hold the key to the mystery surrounding his death.
Miss Peregrine's Home for Peculiar Children by Ransom Riggs: After a family tragedy, Jacob feels compelled to explore an abandoned orphanage on an island off the coast of Wales, discovering disturbing facts about the children who were kept there. This book makes use of photographs to tell the story.
The Tension of Opposites by Kristina McBride: Sixteen-year-old Tessa, a budding photographer, has been living in suspended animation since her best friend was kidnapped at the age of fourteen, and when she suddenly returns, both of them, along with the people they love, must deal with the emotional aftermath of the terrible ordeal.
Exposed by Kimberly Marcus: High school senior Liz, a gifted photographer, can no longer see things clearly after her best friend accuses Liz's older brother of a terrible crime.
A Little Friendly Advice by Siobhan Vivian: When Ruby's divorced father shows up unexpectedly on her sixteenth birthday, the week that follows is full of confusing surprises, including discovering that her best friend has been keeping secrets from her, her mother has not been truthful about the past, and life is often complicated. Ruby gets a Polaroid camera for her birthday, which plays into the plot.
Snap by Carol Snow: When fifteen-year-old Madison's parents, who are having problems, bring her to a seedy beachside town, she relies on some quirky new friends for help figuring out how her camera is taking pictures of people who are not there, and who later suffer tragedies.
Sources of Light by Margaret McMullan: Fourteen-year-old Samantha and her mother move to Jackson, Mississippi, in 1962 after her father is killed in Vietnam, and during the year they spend there Sam encounters both love and hate as she learns about photography from a new friend of her mother's and witnesses the prejudice and violence of the segregationists of the South.
Through Her Eyes by Jennifer Archer: Sixteen-year-old photographer Tansy is used to moving every time her mother starts writing a new book, but in the small Texas town where her grandfather grew up, she is lured into the world of a troubled young man whose death sixty years earlier is shrouded in mystery.
Born Confused by Tanuja Desai Hidier: Seventeen-year-old Dimple, whose family is from India, discovers that she is not Indian enough for the Indians and not American enough for the Americans, as she sees her hypnotically beautiful, manipulative best friend taking possession of both her heritage and the boy she likes.
Rain is Not My Indian Name by Cynthia Leitich Smith: Tired of staying in seclusion since the death of her best friend, a fourteen-year-old Native American girl takes on a photographic assignment with her local newspaper to cover events at the Native American summer youth camp.
Can you think of any others? Drop a comment and I'll add it!